Jordan Chu - Mandarin Chess Coach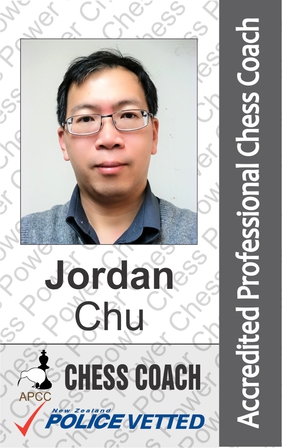 Jordan runs our chess academy in Auckland for the Chinese New Settlers Services Trust. Jordan is fluent in English and Mandarin which allows Jordan to deliver Chess coaching multi-lingually - perfect for kids new to New Zealand.
Why do you love Chess?
Chess comprises of 32 pieces fighting against each-other on a 64 square board. Every single move in Chess is tightly linked to every other move. I love Chess because it really pushes my little brain to run faster and it creates an intense feeling.
When/how did you first learn to play?
I played my first chess game at age fifteen in my school camp. I managed to beat everybody even when they worked together! My school mates were all surprised by how great a player I am because they knew I had never played chess before. However, what they didn't know is I had been playing Chinese chess since I was 7. It all started from my family. My older brother was the one who beat most of the adults in our family when he was young, So for me to play successfully against him, I needed to build up my skill and increase my playing level. With all the experience and knowledge I gained with Chinese chess, it was not that hard to apply to Chess too. The way you think in Chinese Chess is very similar to how you need to think in Chess.
Why do you enjoy working with kids?
I taught my own kid Chess with my own method, encouraging him to try and think creatively. He turned out to be the best player in his school and he constantly surprised me by turning things around when the odds were against him. Some kids have this innate ability to be resilient on the brink of defeat, and seeing kids develop this strength and others is personally very rewarding. Of course, these skills help them a lot in life too. When all is said and done, I have found the most important thing of all is having fun while playing chess.
What are your main Chess achievements?
I believe my main chess achievement is about my two children. My children learned to celebrate their wins, but more importantly they learned how to handle their losses. No pain no gain.
How do you think chess helps Kids?
Chess requires concentration and focus sometimes for a long period of time. This is exactly what kids need as they mature. Chess teaches kids to learn to use their brain before their hands - a lesson which will be of great benefit in their future.