Scott Butland - Chess Coach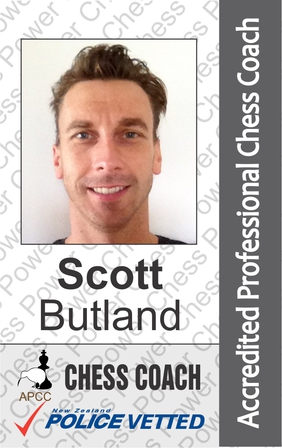 Scott's patient approach along with his ability to engage with kids at their level always looking at things from their perspective makes him an outstanding coach.
Why do you love Chess?
Chess is a game that no matter how much you learn there will always be more. It seems to be an endless storehouse of surprise, subtlety, nuance, individuality. It offers the chance to be principled, to be creative, to be stupid, and no matter what the result it offers us redemption at the end, the ability to start afresh, and to begin again with symmetrical equality. I think it is this that is the source of the endless fascination and enjoyment, as well as frustration, for those of us who get tangled up in its mystery.
When/how did you first learn to play?
My Grandad first taught me chess. He'd been a great chess player and loved the game for most of his life but had begun to develop dementia when I was in my mid teens. He was a wonderful person, and I thought that by getting him to teach me this game that he'd had so much pleasure from that I might be able to reawaken something in him and stave off the progression of his disease. Perhaps I can say that as he gradually lost his mind he also taught me how to pick up the pieces!
Who knows whether my efforts made much difference to the relentless onslaught of dementia, but he'd be extremely happy to know that chess stirred a big interest in me, and it would give him tremendous satisfaction to know that I coach chess now. I hope somewhere he is smiling and watching.
Why do you enjoy working with kids?
Like chess, children are a great mystery, bursting with the same subtlety, nuance and individuality. They show us not only who they are, but in the process we tend to discover who we are. So, for me it is a great source of satisfaction and pleasure to have the opportunity to hopefully positively impact a youthful mind, and to share my experience and thoughts on a subject of potentially endless fascination.