Wilhelm Steinitz (May 17, 1836 – August 12, 1900)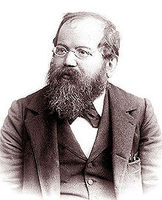 Although Steinitz became "world number one" by winning in the all-out attacking style that was common in the 1860s, he unveiled in 1873 a new positional style of play and demonstrated that it was superior to the previous style. His new style was controversial and some even branded it as "cowardly", but many of Steinitz's games showed that it could also set up attacks as ferocious as those of the old school.
Steinitz was also a prolific writer on chess, and defended his new ideas vigorously. The debate was so bitter and sometimes abusive that it became known as the "Ink War". By the early 1890s, Steinitz' approach was widely accepted and the next generation of top players acknowledged their debt to him, most notably his successor as world champion, Emanuel Lasker.
Posted: Mon 22 Nov 2010