Our 3rd MC Cup Tournament had an awesome attendance of 30 players forcing us to consider a bigger venue for the next event!
Summary of the days events
The 3rd MC cup for the year boasted a total of 30 keen players. In fact, we couldn't fit in one more person in the venue we booked. Needless to say, we will be changing venues at the next MC Cup.
Two adults, both first time players in a NZ event, entered the tournament - Roshan Gallage and Robert Brown, Kurt Browns Dad. Roshan is actually a fairly experienced player playing for University teams back in his home country. And this was Roberts first tournament Chess Game ever.
Only two girls were in the field, Svethlana Gallage (Roshan's Niece) and Gina Holden from Mt. Albert Grammar and a regular MC Cup player. It would be great if we had more girls in the event.
There was good representation right across Auckland including Parakai, Milford on the North Shore, Hillsborough and Remuera.
The focus and competition stepped up a notch from previous tournments and was highly noticeable from how quiet the game time was.
In Round 1, the only upset was when February MC Cup Champion Michael McKenzie lost to Deep Bedekar. Daniel Gong, the 3rd best player in the recent Silverdale Interschools event had a tough opponent in the first round - March MC Cup Champion, Leo Zhang and just wasn't able to hold on.
Round 2 saw Allen Fan, who got 3rd Under 10 at the last MC Cup face Michael Slessor-White, the 3rd equal overall place-holder from the Silverdale Interschools event. Allen pulled through in the end. Another big match-up was March MC Cup rivals, Alphaeous Ang and Leo Zhang. Leo pulled through again to gain a +2 score. Aphaeous will seek revenge I am sure in the May MC Cup.
Round 3 saw no real surprises ending in only three players on full points, William Zhang, Leo Zhang and Roshan Gallage.
Round 4 matched William Zhang with Roshan Gallage. Who would be the first kid to take out the leading adult? Unfortunately William couldn't manage it and Roshan moved onwards and upwards.
Leo Zhang was drawn against Jack Julian from Milford and won comfortably to gain the lead with Roshan 4/4.
The girls had a tough time of it with Gina Holden managing 2/4 and Svethlana managing 1/4.
Round 5 and it was Leo's turn to attempt to overcome the leading adult Roshan. There was a wager amongst the players clearly favouring Leo so crowd confidence was on his side. And to his credit, Leo managed to win the game and become the only player on 5/5! A great effort.
Other games of note, William Zhang beat Alpheous Ang on board 2. And Nathan Tee did well against Nikolai Tee to be the strongest in the Tee family after the 5th round.
In Round 6, the tournament leader Leo Zhang was paired up with Judd Zhan and won. Many thought a perfect score from Leo was inevitable.
On board 2, William Zhang overcame Allen Fan. And board 3, Kumaa had come up the ranks to face Roshan, only to be relegated to the back boards once again.
In the final round, the ultimate battle lines were drawn. Leo Zhang was White against William Zhang. Could Leo maintain his perfect score and achieve two MC Cup Champion titles in a row? Or would William pip Leo at the post and take out first prize. A lot was at stake.
The game built and things were unclear. A large crowd gathered to see who would maintain their nerves. In the end the pressure on Leo was too strong and William managed to sneak through in the dying moments to win the MC Cup Qualifiers title for April with a score of 6/7. Congratulations William!
Leo and Roshan also scored 6/7. Alan Fan and Alphaeous Ang achieved 5/7 closely followed by the Kaipara College team-mates, Kumaa Jayachanthiran and Michael McKenzie.
The two girls, Gina Holden and Svethlana Gallage both had a tough day ending on 3/7 - a respectable score in such tough competition.
Useful Links
Photo Library


Credit Award Winners (4 or 4.5 points from 7)
[ Alan Green, Alex Meng, Daniel Gong, Michael McKenzie, Ryan Lee, Kumaa Jayachanthiran, Judd Zhan, Nathan Tee & Aaron Wang ]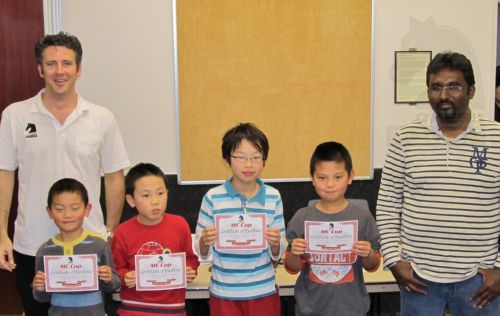 Excellence Award Winners (5-6 points from 7)
[ Paul Macdonald (Tournament Organiser), Allen Fan, Alphaeus Ang, William Zhang, Leo Zhang ]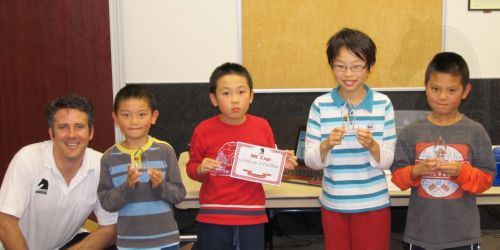 1st, 2nd & 3rd= Under 10
[ Allen Fan, Alphaeus Ang (3rd =) William Zhang (1st), Leo Zhang (2nd) ]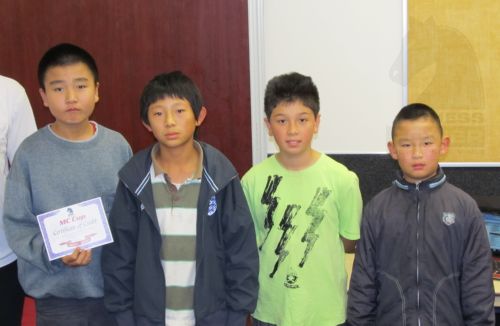 3rd Equal Under 14
[ Alex Meng, Ryan Lee, Nathan Tee, Judd Zhan ]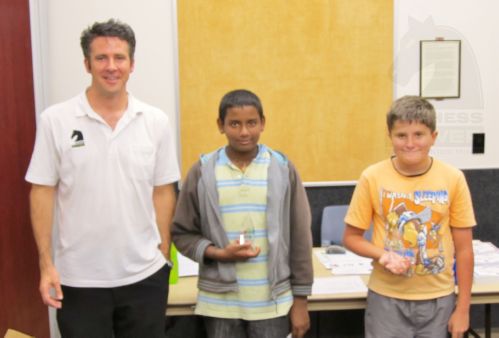 Under 14 1st Equal Overall
[ Paul Macdonald (Tournament Organiser), Kumaa Jayachanthiran, Michael McKenzie ]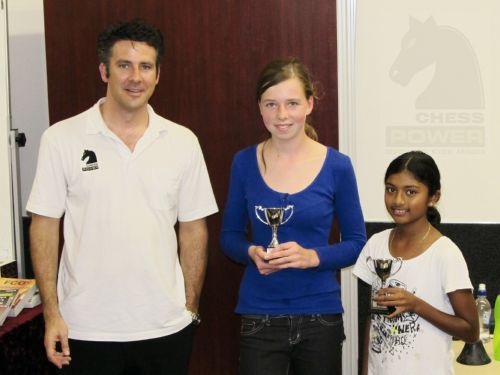 1st Equal Girls
[ Paul Macdonald (Tournament Organiser), Gina Holden, Svethlana Gallage ]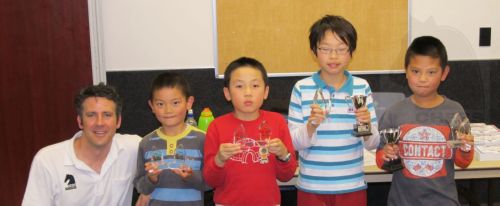 Overall Tournament Winners
[ Paul Macdonald (Tournament Organiser), Allen Fan & Alphaeus Ang (4th Equal), William Zhang (1st), Leo Zhang & Roshan Gallage (2nd Equal) - not pictured ]