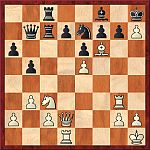 In this game from the current World Chess Cup, White's f-pawn had eaten its way to h7 early on and just remained there. What does that mean for the postion? The strike 28.Rxg7 now leads to ...
A)... victory for White
B)... perpetual check
C)... advantage for Black

The solution is here.
Posted: Mon 05 Sep 2011