Overview
The 1st Chess Power Interschool National Finals was a great success. The event brought together 138 keen chess players from 28 schools across the country. Each competing school qualified for the event by winning a zonal interschool competition in their local region.

The event was split into two divisions. The Junior division (Years 1 to 8) consisted of 94 players from 19 schools. The Senior division (Years 9 to 13) consisted of 44 players from 9 colleges.
The event was held at the Freemans Bay Community Hall on 4 October. There was a general feeling of excitement and a wonderful positive energy surrounded the event.
The catering provided by Rupa's Cafe in Freemans Bay was exceptional with many participants commenting on how enjoyable the food was. A special thanks to Kokila and her team at Rupa's. If you want great food or have any catering requirements, talk to Kokila and let her know Chess Power referred you. You will be looked after thats for sure.
The day promised to be a true test of skill and with 9 rounds, a true test of stamina.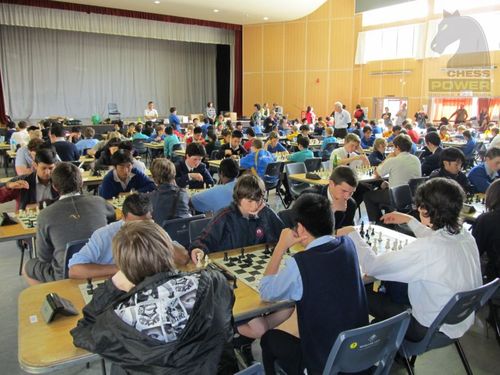 Special Activities
| | |
| --- | --- |
| | Aside from the main event, there were a bunch of wonderful activities for the kids to engage in. The knights tour puzzle was a big attraction with many kids managing to reach a perfect zero score. The winner of the knights tour was Wade Wesche from Nuhaka School who picked up a book of his choice from Gambit Books. |
The Puzzle Station also created a lot of interest with a selection of Checkmate Puzzles and Endgame Puzzles. The best answers win a $100 gift voucher of any Chess Power products of their choice.
If you didn't get a chance to solve the puzzles at the tournament or didn't make the event, we have a link to them below. We highly recommend you do your very best to solve them as this way you will learn the most and make your Chess a lot stronger. You should spend at least 30 minutes on each one. Once you have done your best, take a look at the solutions below.
The winners of the Checkmate Puzzles was Christchurch Boys High School who correctly answered three of the four puzzles.
The winners of the Endgame Puzzles was St. Paul's Primary who correctly answered all four puzzles.
View the Checkmate Puzzle solutions
View the Endgame Puzzle solutions
Bruce Pollard's coaching sessions were often packed with 20-40 kids attending between games. The kids obviously valued learning as much as they could before their next game.
Individual Results
The tournament ran very well with many tough games in both divisions. In the individual stakes, in the Junior Division, Alphaeus Ang from St. Paul's Primary came first place only dropping one game with a score of 8 from 9. William Li from Takapuna Normal Intermediate did extremely well also scoring 8 from 9 however Alphaeus managed to win on tie-break.
Winston Yao also from Takapuna Normal Intermediate fought strongly to come in at 3rd place amongst five others who also scored 7 to win 3rd place on tie-break.
The other players to score 7 were William Zhang from Milford School, Hao Jia from Takapuna Normal Intermediate, Eugene Ngoi from Pigeon Mountain School and Tiger Huang from Remuera Intermediate School.
The best girls in the Junior Division were first-placed Crystal Zhu from Milford School with 6 from 9, 2nd place Bella Qian from Takapuna Normal Intermediate and 3rd placed Xanthe Barton from Fairhaven Primary School.
In the Senior Division Womens Fide Master Nicole Tsoi proved too strong for the competition winning the event in fine style with 8 from 9 points. Great to see Girl Power winning out against 41 of the best boys in the country!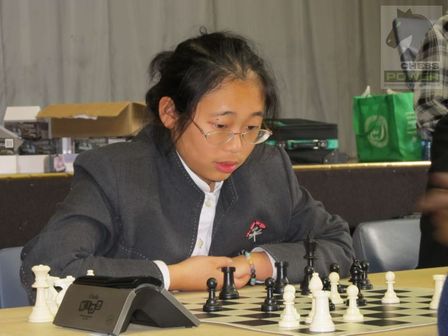 Nicole Tsoi, Auckland International College
1st place, 8 from 9 points
The 2nd best girl in the Senior Division was Chuyu Song from Auckland International College. And the 3rd best girl was Courtney Mariner from Tauhara College.
In 2nd and 3rd place overall the Rains boys proved that the South has some real Chess talent. Timothy Rains from Christchurch Boys High School came 2nd with 71/2 from 9.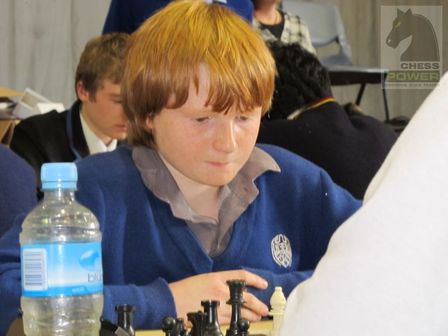 Timothy Rains, Christchurch Boys High School
2nd place, 7 1/2 from 9 points
And his older sibling Edward Rains also from Christchurch Boys High School came 3rd on tie-break with 7 from 9.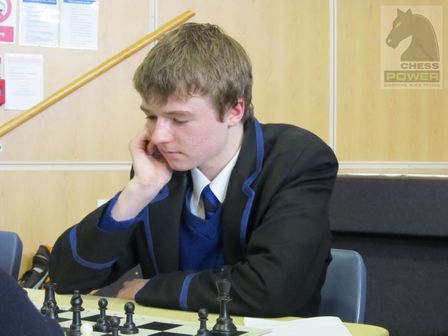 Edward Rains, Christchurch Boys High School
3rd place, 7 from 9 points
The other players to score 7 points in the Senior Division were Bill Li and Jerry Chen from Auckland International College.
Team Results



The individual results are a great boost for individual effort however the National Finals is all about working together as a team. The winning teams not only win the prestigous title of National Champions but also win an entry to play in the 7TH AUSTRALASIAN INTERSCHOOL OPEN CHESS CHAMPIONSHIPS 2011 with all accomodation, meals, transfers, coaching and entry fees for the event paid for.

It might seem a little strange that Chess which is generally considered a game of one mind against another, can be played in the context of a team. But there are many ways a team can work together. For example, by supporting each other when one of the team-mates loses a tough game. Another example, is understanding how you are performing and the results you need to win against another team.
For the team results in the Junior Division, the favourites Takapuna Normal Intermediate proved to be a formidable and consistent team winning with 28 1/2 from the possible 36 points. The team members were William Li, Winston Yao, Hao Jia, Sean Yang and Bella Qian.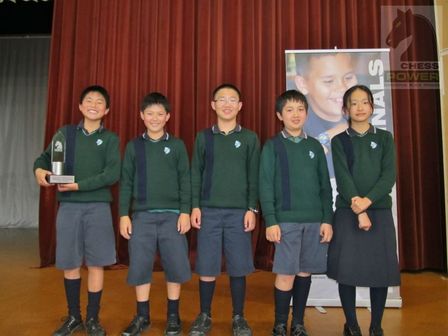 Junior Division Winners
Takapuna Normal Intermediate
William Li, Winston Yao, Hao Jia, Sean Yang and Bella Qian

In 2nd place, Pigeon Mountain School managed to edge out Milford by a single point! The final score for Pigeon Mountain School was 25 1/2. The team members were Eugene Ngoi, Judd Zhan, Richard Jiang, Jonathan Ngoi and Yiwei Qi.
The team members for 3rd placed Milford School on 24 1/2 were William Zhang, Martin Zhu, Crystal Zhu, Jack Julian and Michael Slessor-White.
In the Senior Division, Nicole Tsoi, Bill Li, Jerry Chen and Chuyu Song formed a wonderfully strong team winning the event for Auckland International College with 27 points from a possible 36.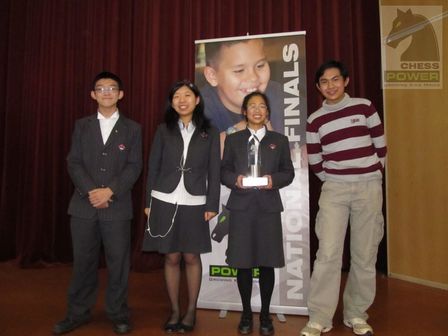 Senior Division Winners
Auckland International College
Jerry Chen, Chuyu Song, Nicole Tsoi, Bill Li
Christchurch Boys High School came in 2nd with 24 1/2 points. Their team consisted of Timothy Rains, Edward Rains, Kai Lee, Heesung Park and Vincent Ivos.
Mt Roskill Grammars' regular involvement in Chess Power interschool tournaments and their coach Wayne McDougalls' passion for Chess paid off with a respectable 3rd place with 21 1/2 points. The Mt Roskill team included Kashyap Choudhary, Malhar Shah, Saviduruu Mohan, Kalyan Todha and Nicholas Power.
Of special note was Kaipara College's performance achieving 4th place in the Senior Division. The boys organised their own team and focussed on the task at hand. Their team included Truman Smith, Kumaa Jayachanthiran, Michael McKenzie, Alex Holman, Isaac Olson and Tony Barton.
Both Takapuna Normal Intermediate and Auckland International College will be invited to play in the 7TH AUSTRALASIAN INTERSCHOOL OPEN CHESS CHAMPIONSHIPS 2011. Chess Power will pay for all accomodation, meals, transfers, coaching and entry fees for the event.
Detailed Results and Photos
All the results for the National Finals including individual and team scores are available on our Tornelo Tournament website.
You can view our National Finals 2011 photo gallery for a great selection of photos from the event.