We were blown away by the response for the 2nd MC Cup Qualifiers event for 2012. 65 enthusiastic Chess kids joined in with ages ranging from 6 through to 15 years. This was a 27% increase in numbers over last months tournament. If things continue this way, we will need to get a larger venue!
There were 9 girls in the event (50% more girls than last month) and as things progressed the girls showed that what they lacked in numbers, they were more than capable in Chess skill.
Auckland Bridge Club continues to please
The Auckland Bridge club proved its worth again, safe, quiet and spacious. Next months event at the Milford Bowling Club on the North Shore will be hard-pressed to match. In case you weren't aware, the MC Cup home base is the Auckland Bridge Club but every 3 months we move to different locations around Auckland then return back to home base. The idea is so the event is made available to kids in different locations that would not be able to attend otherwise.
New Tournament format aims to give new players greater success
Now that the tournament has grown in numbers and assuming it stays that way, we will be offering two separate divisions for the MC Cup. The main reasoning for this is so that new players to the MC Cup have greater opportunities for success by playing against more players at their own level. You can read all about the new divisions on the Format section of the MC Cup FAQ.

Helping hands were appreciated
Bruce Pollard kindly was the Chief Arbiter for the day. Bruce dealt with a number of incorrectly recorded results and worked hard to keep the event running to schedule.
One of the players, Brandon Walker of Parakai worked the kitchen supplying drinks and biscuits to famished kids. Brandon showed kids can deliver just as well as adults. Thank you Brandon. Over a year ago Brandon recorded this video explaining why he enjoys Chess and sharing some of his aspirations such as his dream to become a Chess Coach and open his own Chess Shop. Check it out.
Keith Plows popped in again to assist with getting started and was valued for his assistance.
And Paul Macdonald was the Presenter for the day. Paul also ran the Master Challenge™ offering 200CPDs to anybody that could beat him. There were a few very tough games. One game of note was with Joy Qin. Joy managed to win a piece in the first 10 moves! But Paul turned his attention to Joy's king and Joy wasn't able to defend against all the threats. Somehow Paul managed to win every game. It will be interesting to see who will break his winning streak!

Puzzle Solvers keep turning up trumps
The puzzle competition ran again throughout the afternoon with the fastest solvers winning Chess Power dollars prizes. Winners for 1st received 20CPDs, 2nd 10 CPDs and 3rd 5CPS. The winners were as follows:
Puzzle 1:
1st Biyuan Chen
2nd David Gong
3rd Max Gu
Puzzle 2:
1st Alfa Lee
2nd Tony Tang
3rd Bella Qian
Puzzle 3:
1st Tony Wang
2nd Ally Tang
3rd Kevin Guan
Puzzle 4:
1st Liam Macdonald
2nd Gareth Holmes
3rd Brandon Walker
Puzzle 5:
1st Michael McKenzie
2nd Euan McDougall
3rd Brandon Walker
Puzzle 6:
1st Max Gu
2nd Biyuan Chen
3rd Daniel Gong

Fastest Draw in the West™
We created a new challenge where players had to set up the pieces correctly as quickly as possible - from the bag to the board. At least two spectators needed to be present to validate the time test. The Fastest Draw in the West was Tony Wang who did it in an incredible 25 seconds! Tony picked up 20CPDs for his efforts.

Biggest Upset
The biggest upset for the day has been awarded to Tony Tang for beating Alan Green in the 1st round. Tony has been awarded 50 Chess Power dollars for the win.
Spot Prizes for Merit Award Winners
The winners of the spot prizes for players new to the MC Cup randomly selected are: Sylvia Ruahe, Jayda Pawhau, Nathan McDougall, Dylan Jonkers and Svethlana Gallage. Each wins 50 Chess Power dollars and will be emailed details for claiming their prizes.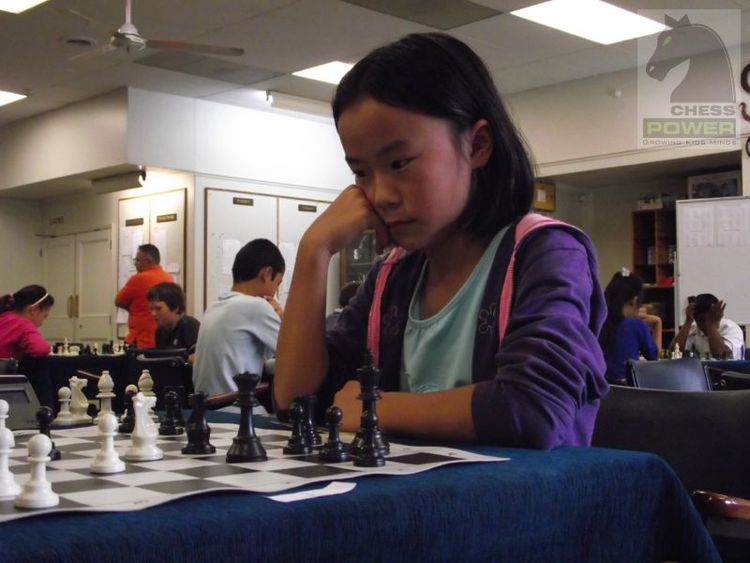 Ally Tang (3rd place Under 10) plans her winning strategy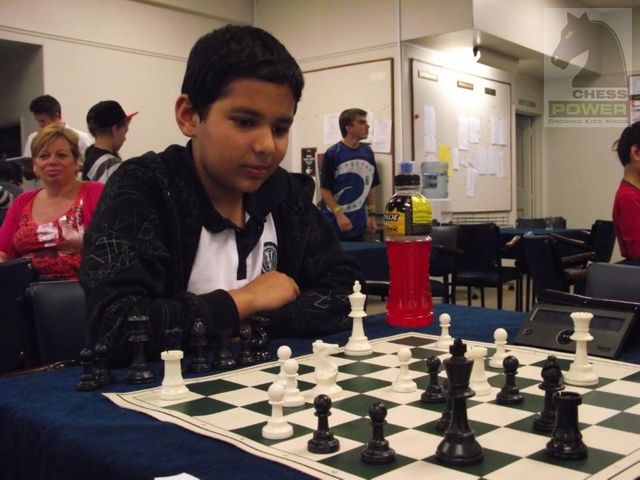 Maneet Singh offers a coy smile as a sign of confidence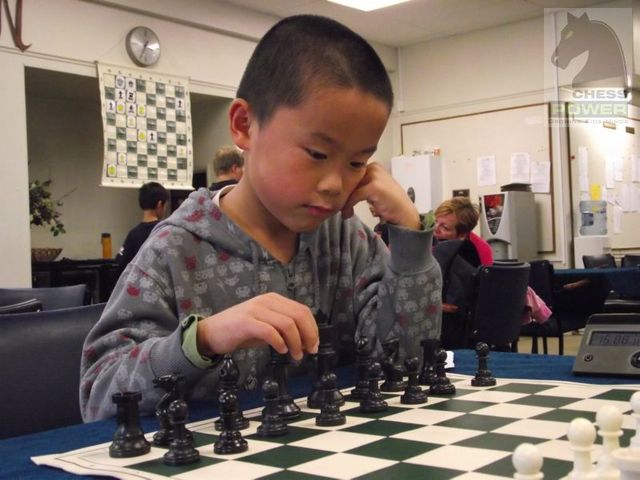 Tony Tang (U8 age group) prepares his first move with the Black pieces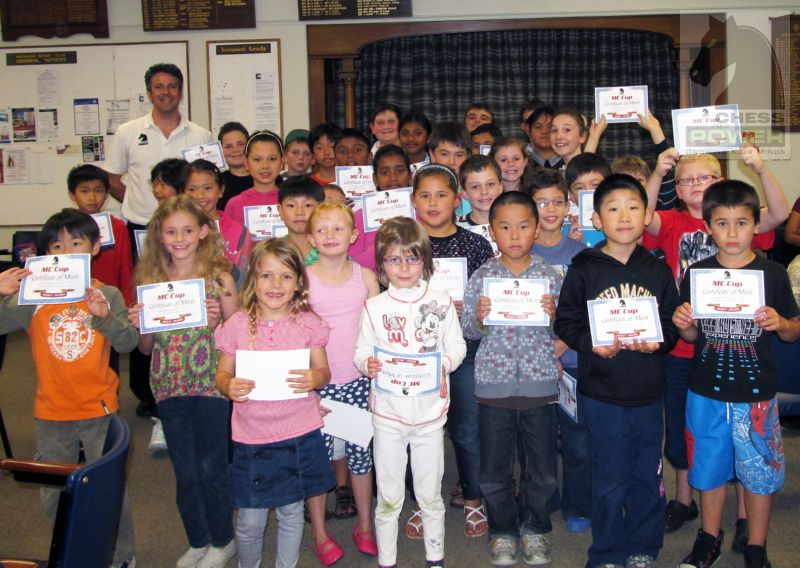 Merit Award Winners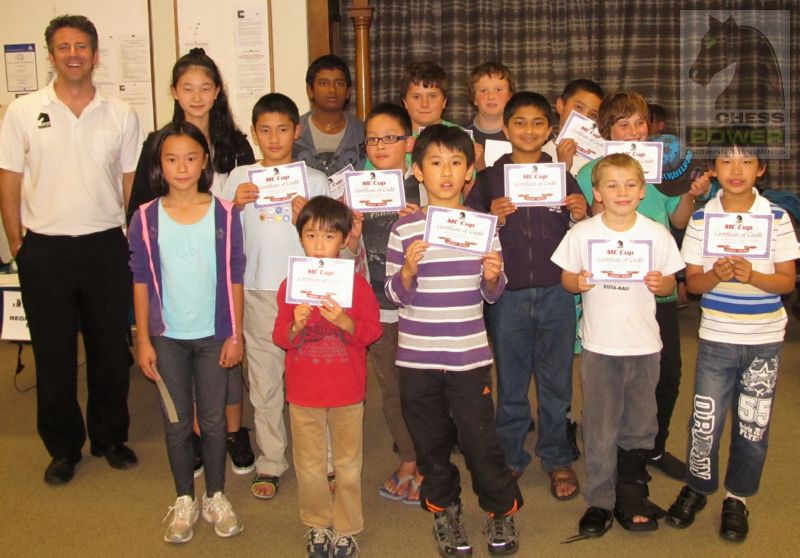 Credit Award Winners - MC Cup Qualifiers April 2012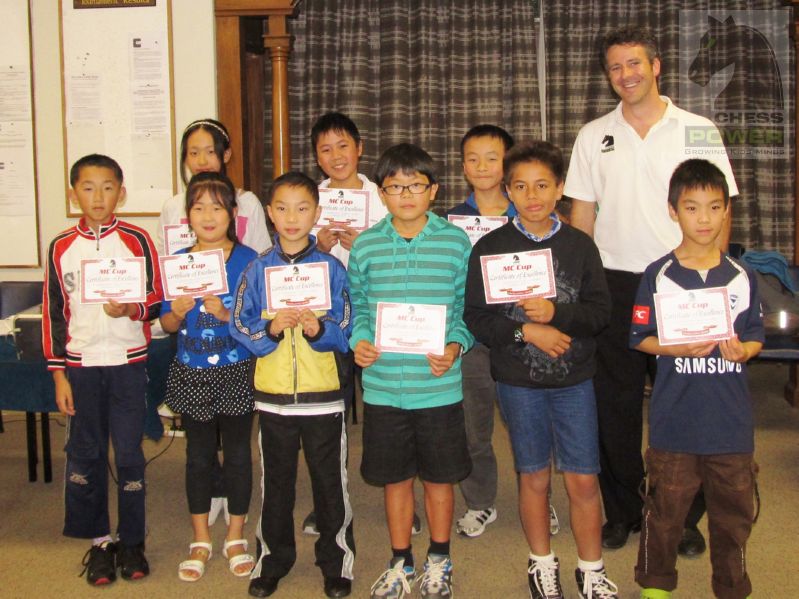 Excellence Award Winners - MC Cup Qualifiers April 2012
(Bella Qian 5/6, Zhuosi Xie 3.5/6 [Credit winner due to post-tournament correction], Samuel (Shih-Hao) 5/6)
(Kevin Guan 4.5/6, Nicole Shu Yu Qin 5/6, Alfa Lee 4.5/6, Biyuan Chen 5/6, Ashton Carmont-Heketoa 4.5/6, Daniel Gong 5/6)
Euan McDougall (absent from photo due to incorrectly reported tournament result)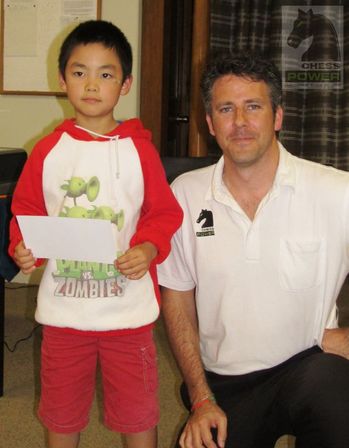 Distinction Award Winner and 1st Overall - MC Cup Qualifiers March 2012
Aaron Wang 6/6 Perfect Score!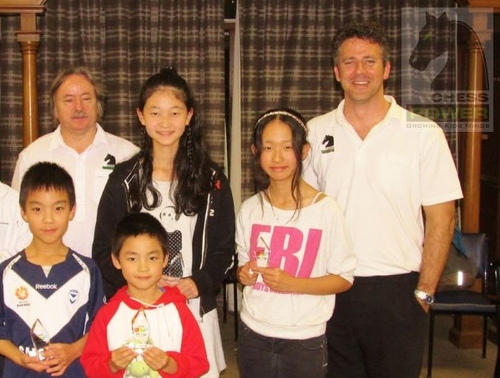 Age Group Winners and 2012 MC Cup Championship Qualifiers
From Left (Under 10 - Daniel Gong, Under 8 & 1st Overall - Aaron Wang, Over 14 - Joy Qin, Under 12 & Best Girl - Bella Qian, Under 14 [not pictured] - Samuel Shih-Hao)