The 7th MC Cup Qualifiers event for 2012 entertained 58 keen Chess players ranging in age from 4 through to 16 years.
There were 9 girls in the event.
New Rooks Division
We introduced a new Rooks Division for this event. The new division is intended for players that have been playing in a few tournaments but haven't yet reached the top level. The format worked really well with many players experiencing greater success and enjoying playing against kids closer to their own level.
Chess Power Arbiters
Paul Macdonald was the Chief Arbiter for the day.
Roshan Gallage was the Assistant Arbiter.
Liam Macdonald and Dylan Jenkinson kindly helped in the kitchen for the day serving chocolate fish, bikkies, raro, tea and coffee.
Puzzle Competition
We ran lots of puzzles including the popular Hungry Knight, Fastest Cowboy and Knights Tour Challenge plus a few other puzzles and challenges.
Biggest Upset
The biggest upsets were as follows:
Pawns division - Jacob Barry for beating Shawn Hui in Round 1. Jacob wins 20 Chess Power dollars
Rooks division - Benny Chun for beating Richard Lu in the 3rd round. Benny wins 20 Chess Power dollars
Kings division - William Shin for winning against Eric Chow in the last round. William wins 50 Chess Power dollars
Spot Prizes for Merit Award Winners
The winners of the spot prizes were as follows:
Pawns division - Wally Zhang wins 20 CPDs
Rooks division - Lucas Salazar wins 50 CPDs
Kings division - Eric Chow wins 100 CPDs
All winners will be emailed details for claiming their prizes.
Age Group Winners
Photos of the Age Group Winners and names are below. For additional photos visit our Facebook page.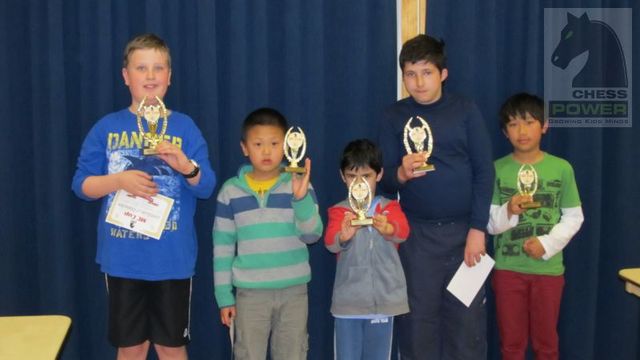 Age Group Winners - Pawns Division
From left: Jacob Barry (Overall Division Winner), Shawn Hui (Under 8), Samuel Chinthapali (Under 6), Carlos Scarborough (Over 14), Joshua Salvador (Under 12)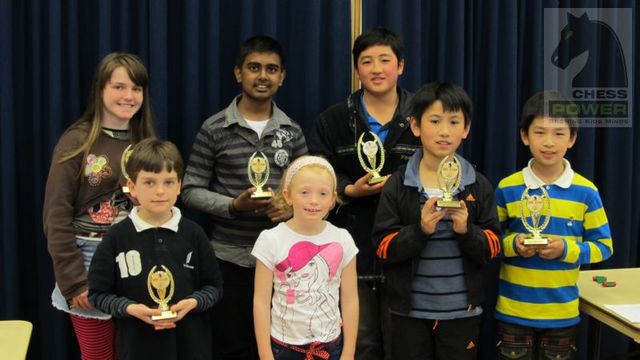 Age Group Winners - Rooks Division
From left: [Back Row] Ella Johnson (Under 14 & Best Girl), Kaveesh Narayan (Under 12), Benny Chun (Over 14)
[Front Row] Patch Johnson (Under 8), Bridie McCann (Best Girl - Pawns Division), Zachary Yan (Under 10), Henry Wang (Overall Division Winner)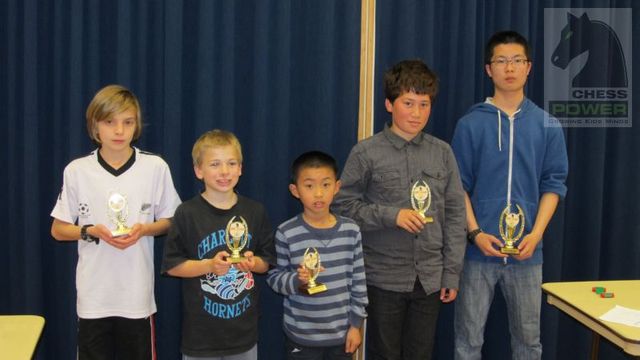 Age Group Winners - Kings Division
From left: Daniel Body (Under 14), Euan McDougall (Under 10), James Yang (Under 8), Corban Mathews (Under 12), Johnson Li (Overall Division Winner)
Joy Qin - not pictured (Over 14 & Best Girl)