3rd MC Cup Apr 2013 Tournament Results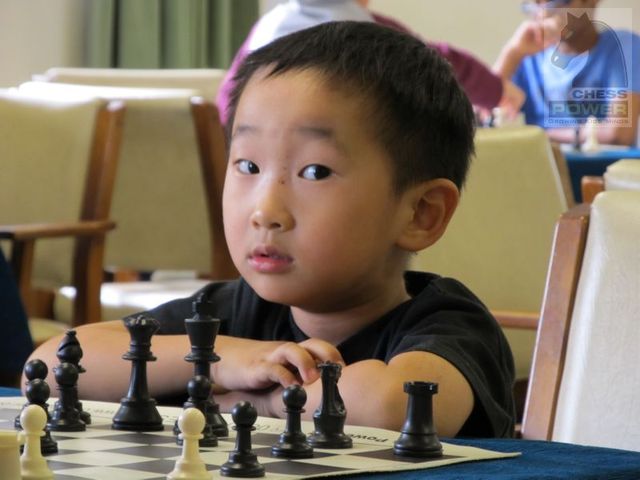 The 3rd MC Cup Qualifiers event for 2013 attracted 48 avid competitors. The event had a lot of spirit to it and the kids definitely had a great time!
Chess Power Arbiters
Paul Macdonald was the Chief Arbiter for the tournament.
Roshan Gallage was the Assistant Arbiter for the tournament.
Gramma Macdonald kindly helped in the kitchen one last time serving refreshments. Gramma has decided to live in Australia so this was her very last MC Cup! She thoroughly enjoyed each event and I personally would like to thank her so much for being the best "Kitchen Professional" I ever saw! We will miss you Gramma!!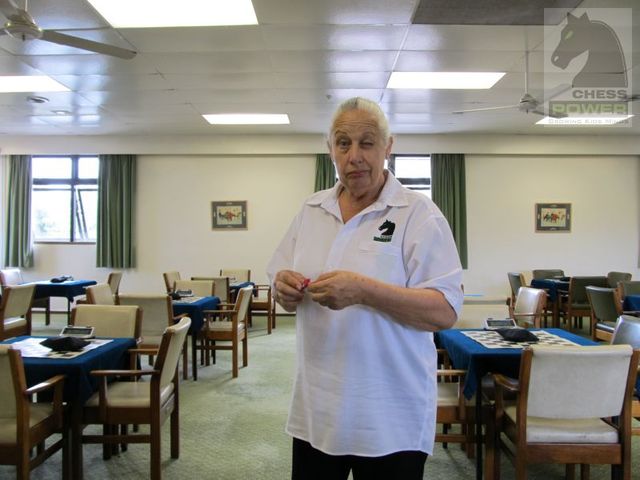 Biggest Upset
The biggest upsets were as follows:
Pawns division - Oscar Qin for an incredible effort beating Asher Matheson in Round 3. Oscar wins 20 Chess Power dollars. Well done!
Rooks division - Samir Khan for a great win against Sam Roberton in Round 4 earns Samir 20 Chess Power dollars.
Kings division - Jack Rose for a wonderful win against Jack Julian in Round 5. Jack wins 50 Chess Power dollars. An honourable mention should go to Darrick Pan playing a great game and taking a point off Nicole Qin.
Spot Prizes for Merit Award Winners
The winners of the spot prizes were as follows:
Pawns division - Bridie McCann wins 20 CPDs
Rooks division - Connor Owen wins 50 CPDs
Kings division - Raghav Ramachandran wins 100 CPDs
All winners will be emailed details for claiming their prizes.
Age Group Winners
Photos of the Age Group Winners and names are below. For additional photos visit our Facebook page.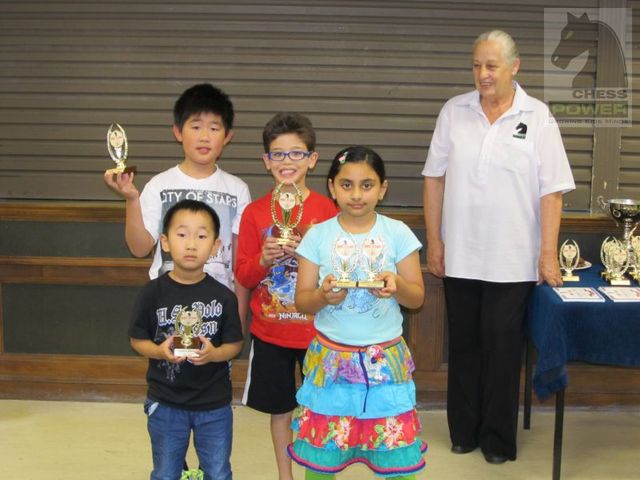 Pawns Division Winners
From left: Wesley Ngo (Under 10), Oscar Qin (Under 6), Akram Al-Chalabi (1st Overall), Renae Ghadiali (Under 8 and Best Girl)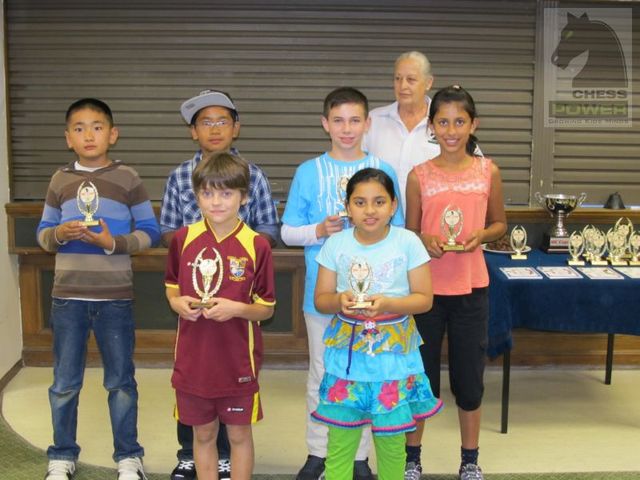 Rooks Division Winners
From left: Danny Su (Under 10), Azrie Azizi (Under 12), Patch Johnson (1st Overall), Daniel Salazar (Under 14), Saasha Ghadiali (Under 8), Sophia Khan (Best Girl)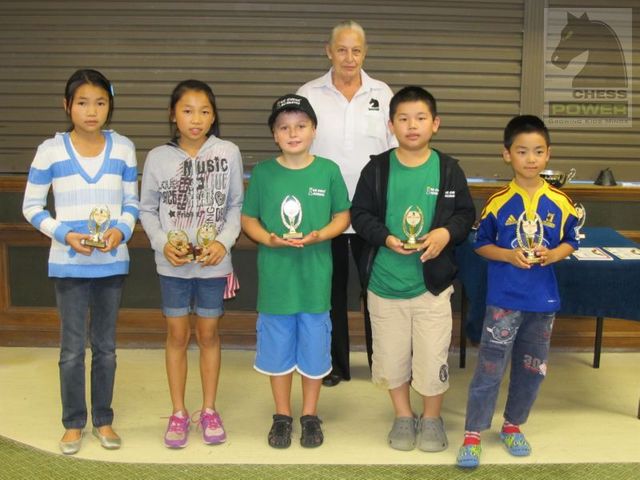 Kings Division Winners
From left: Sarah Yan (Under 14), Caroline Yan (Under 12 & Best Girl), Jack Rose (Under 8), Darrick Pan (Under 10), Aaron Wang (1st Overall), Gareth Fairholme [not present] (Over 14)
Posted: Mon 15 Apr 2013