Our first MC Cup Qualifiers event for 2012 was a wonderful success. With 51 avid competitors, it was nearly double the size of any MC Cup event we held last year. Participants came from every age group, the youngest being 6 to the oldest of 15 years. And from all across Auckland.
The event had 6 girls participating with the rest boys. It would be great to see more girls in next months event.

A great venue was enjoyed by all
The new venue was wonderful. Quiet, spacious with all the facilities. Chess Power would like to thank the Auckland Bridge Club for all their assistance in helping create a wonderful experience and a home for the MC Cup.

Helping hands were appreciated
Bruce Pollard kindly ran the Master Challenge™ for most of the afternoon. Bruce showed he wasn't unbeatable with William Zhang and Alphaeus Ang both winning 20 Chess Power Dollars for their efforts.
Marilyn Rowan did a wonderful job running the kitchen, providing cookies and refreshments to tired young minds.
Keith Plows popped in the morning to help people find their way and even did a little coaching for first-timers.
And Keong Ang kept a watchful eye on events making sure things were done the right way.

Puzzle Solvers show their style
A puzzle competition ran throughout the afternoon with the fastest solvers winning Chess Power dollars prizes. Alphaeus Ang, Steven Cho, James Lamberton, Raith Fullam, Samuel Auger, Cameron McNair, Max Gu, William Zhang all won prizes for their efforts.

Biggest Upset
The biggest upset for the day has been awarded to Laurence Li for beating Hamish Dunn in the 4th round. Laurence has been awarded 50 Chess Power dollars for the win.
Spot Prizes for Newbies
We also have selected five spot prizes for players new to the MC Cup. The winners randomly selected are: Cameron McNair, Justin Mo, Liam Parker, Tony Wang and Raith Fullam. Each wins 50 Chess Power dollars and will be emailed details for claiming their prizes.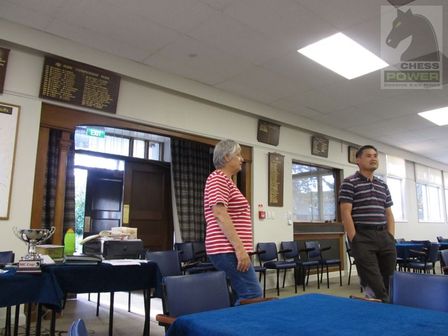 Marilyn Rowan and Keong Ang reflecting on the afternoons' proceedings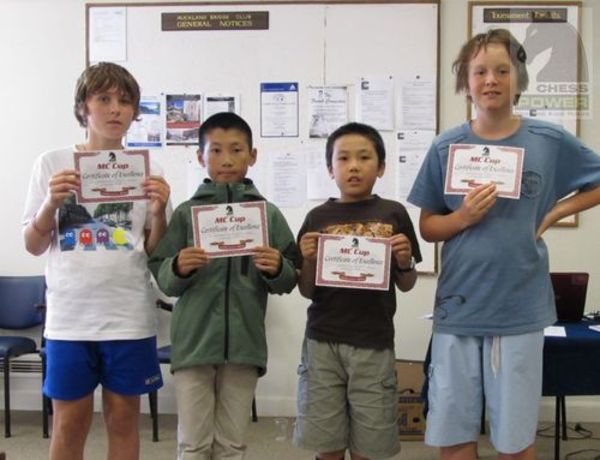 Excellence Award Winners - MC Cup Qualifiers March 2012
From Left (Liam Macdonald 4.5/6, David Yao 4.5/6, Alphaeus Ang 5/6 and Alan Green 5/6)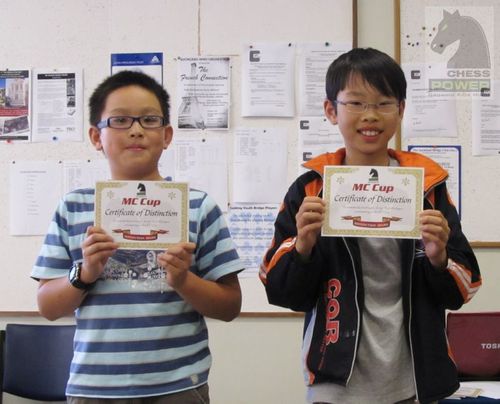 Distinction Award Winners - MC Cup Qualifiers March 2012
From Left (Max Gu 5.5/6, William Zhang 6/6)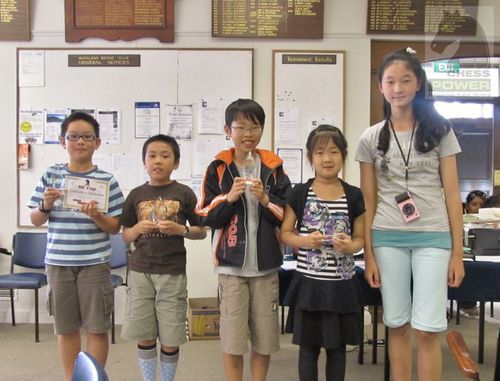 Age Group Winners and 2012 MC Cup Championship Qualifiers
From Left (Under 12 - Max Gu, Under 10 - Alphaeus Ang, 1st place overall - William Zhang, Under 8 and Best Girl - Nicole Qin, Over 14 - Joy Qin, Under 14 (not pictured) - Philip Lin)
Two Junior Master Titles Awarded
Chess Power also awarded two Junior Master™ titles at the event. The Junior Master™ title recognises excellence in Chess. William Zhang was awarded his title for winning the MC Cup Championships in 2011. Alphaeus Ang was awarded the title for achieving 1st place in the Junior Division of the Chess Power National Interschools Finals 2011.
Both players were given framed certificates to mark the occasion and enter the Chess Power Hall of Fame™.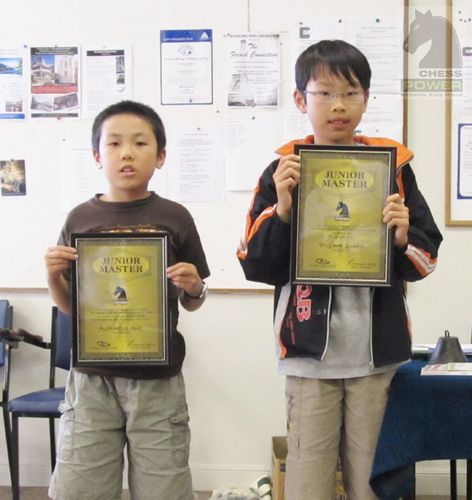 Alphaeus Ang and William Zhang with their Chess Power Junior Master™ titles