Champions Trophy 2018 report
The weekend of 27/28 October 2018 comprised of two events open to Juniors.
On Saturday 27 October we held the Champions Trophy. And on Sunday, we held the Teams Nationals.
View the Teams Nationals report
The Champions Trophy is an invitation-only event that had what may be one of the largest individual junior chess tournaments in NZ history - well at least for the last 20 years. We had 237 players enter from 6 years through to 20 years old!
Players were from every part of New Zealand from way up in Northland right down to Invercargill. To qualify for the Champions Trophy, players have to be the best individual player in one of our regional team events.
Each player was provided a goodie bag on arrival with a personalised name badge, some freddy frogs, a juice and morning tea, lunch and afternoon tea for the day ahead.
Bruce Shirley from De la Salle College, located in South Auckland, kindly offered to host the event. The main hall was large and big enough to house all the competitors comfortably.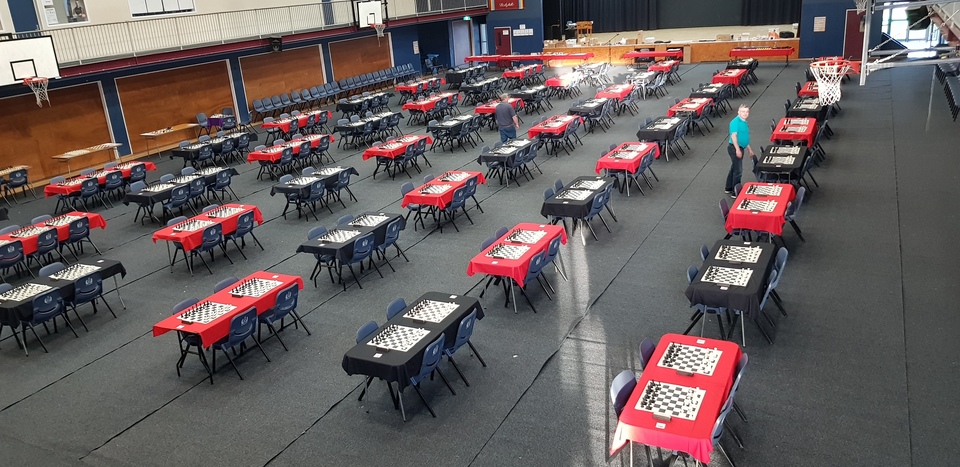 The prize desk looked impressive with high quality gold painted certificates, medals and glass trophies for the winners. The overall winner of the event wins the Overall Champion trophy pictured on the left. Trophies were also available for the Best Junior, Best Intermediate, Best Senior and the Best Girl. Age group medals were also up for grabs.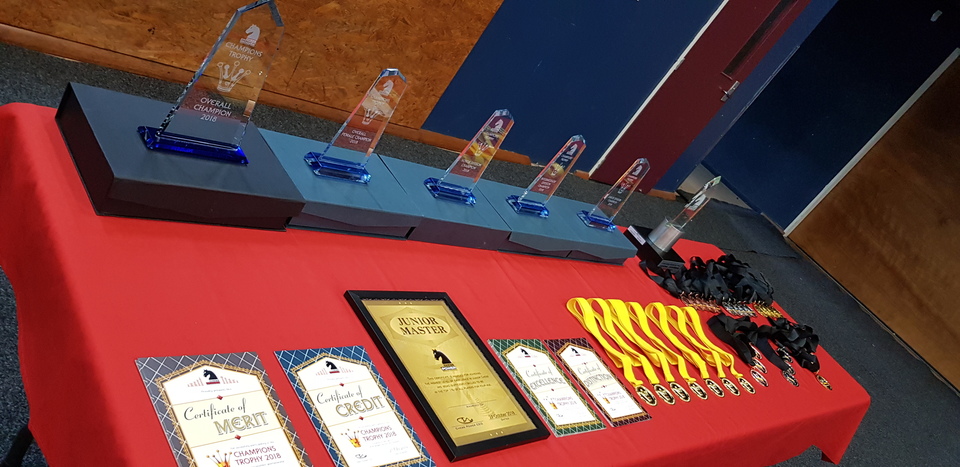 The NZ Chess Academy players looked smart in their brand new uniforms. You don't want to have to face one of these girls if you could help it!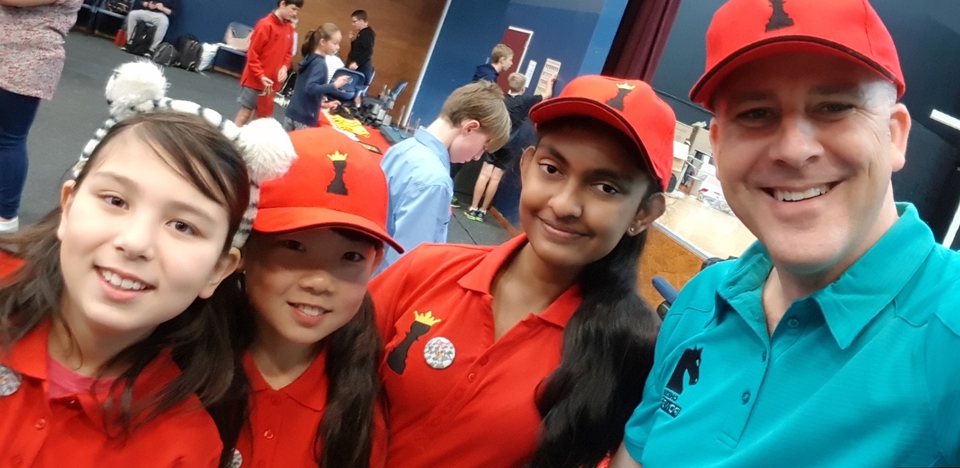 The Champions Trophy is an opportunity to battle it out against players twice your size. Here Lower Hutt player Luka Dunwoodie faces NZ Chess Academy player Reese Miller from Timaru.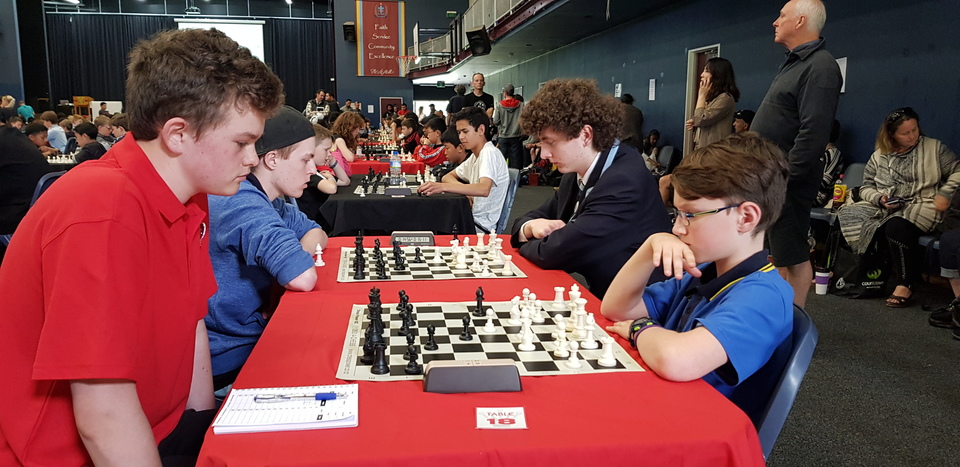 Most of the games were fought with a high level of focus and intensity. Here is a typical example - Bosco Jessop from Tikipunga High School looks to getting his king to safety from Kyoni Te Amo of TKKM o Ngati Kahungunu o Te Wairoa.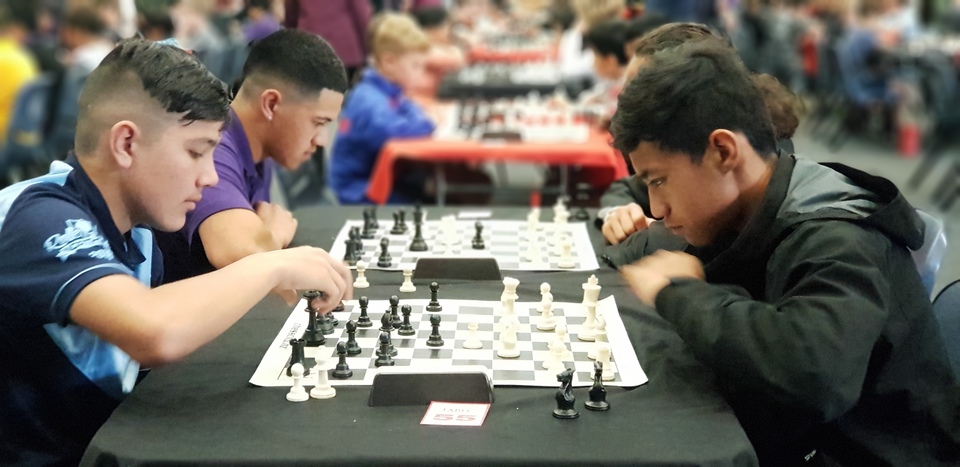 Lily Rees from Masterton Intermediate did quite well achieving 6 out of 9 points in the end.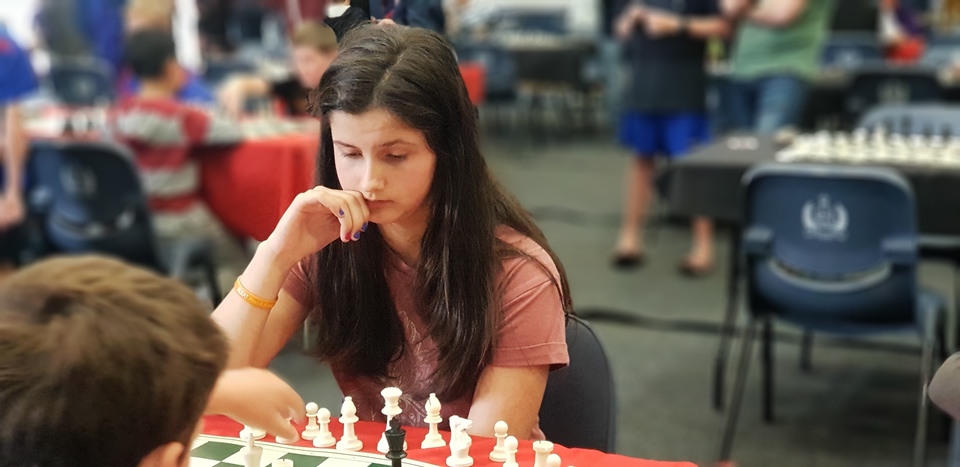 Sometimes even parents couldn't resist jumping on a board and having some chess fun!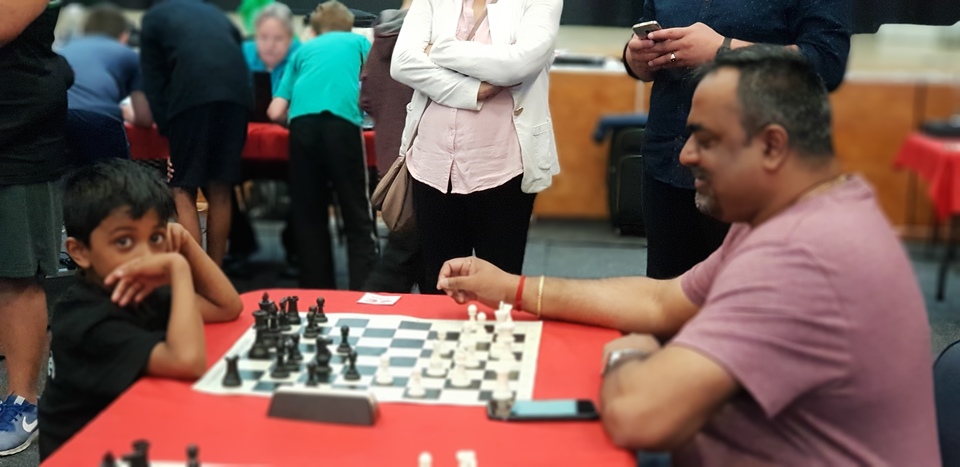 Tournament favourites Rohit Mudaliar and JM Euan McDougall occupy the top boards and cause headaches for their opponents.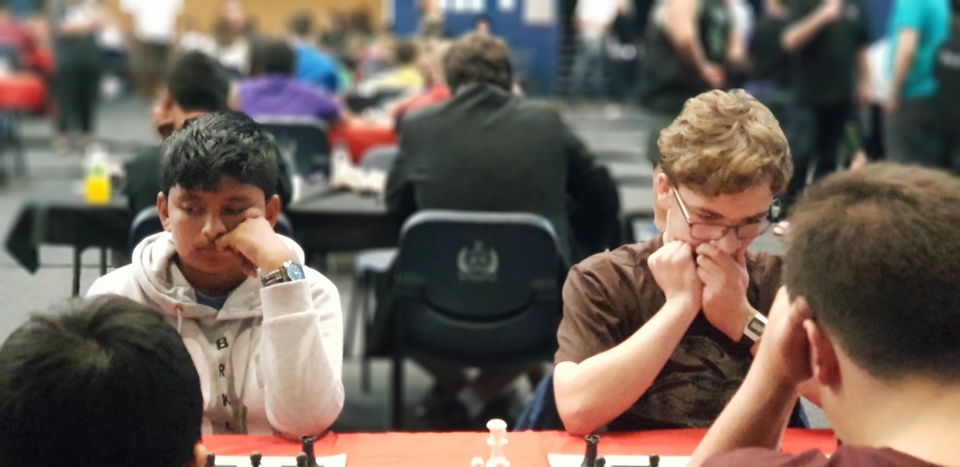 Yolanda Chang is a force to be reckoned with, showing age is no barrier to winning in chess. Yolanda scored an impressive 7 out of 9 points as finished strong as the best girl for the whole tournament.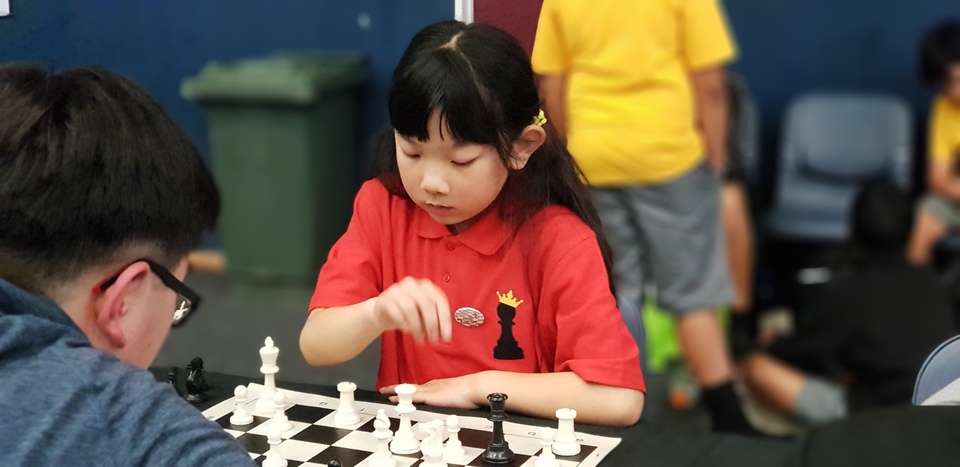 The Round 6 game, Rohit Mudaliar vs Sam Moffitt from King's school drew a massive crowd. Rohit managed to secure victory in this game.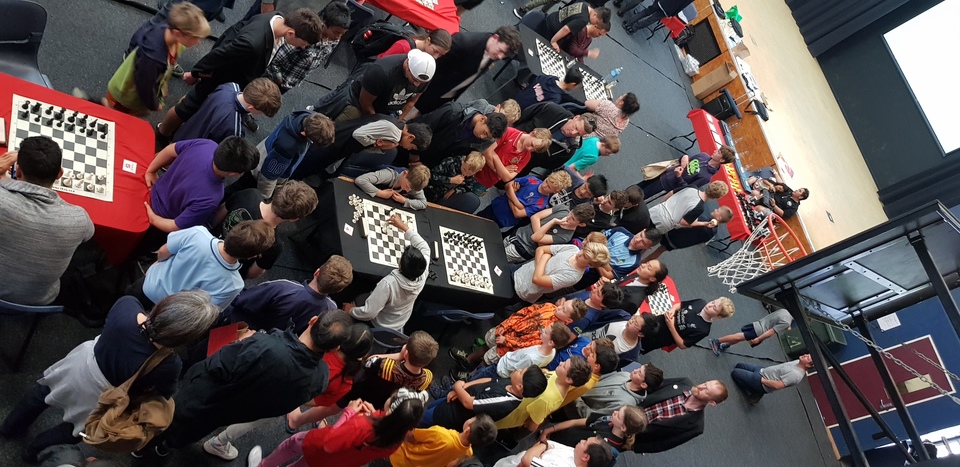 After 7 rounds, both Marvin Brimon from Linwood College and Max Stephens from Hamilton Boys' High had won all their games so far. The game drew a crowd and in the end Max was able to clinch a fine victory in probably the most important game of the tournament.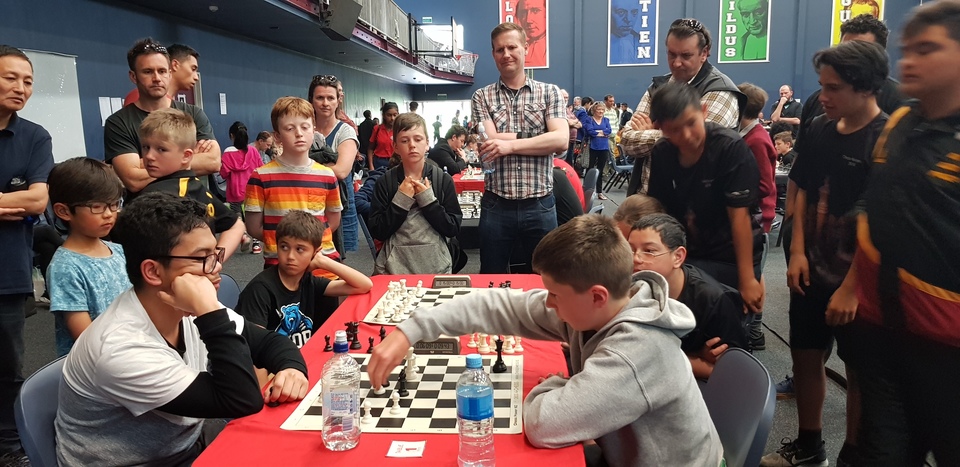 Aside from the tournament itself, the Champions Trophy featured a number of puzzles and challenges. Here are the winners of the Knights Tour, the Knight Walk, the Hungry Knight and the Fastest Draw.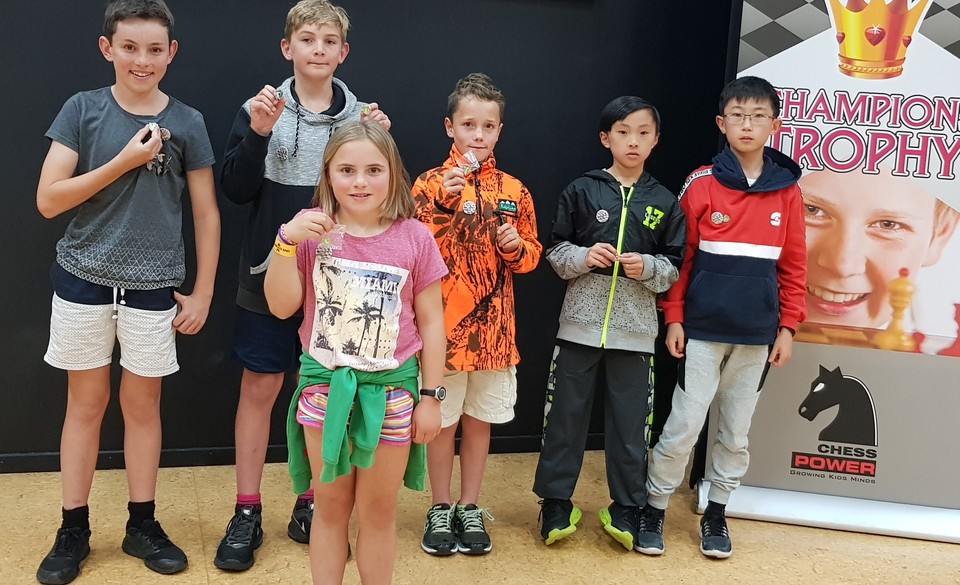 We had special prizes for players that gained the most rating points and had the biggest upsets winning against a lot stronger players.
Biggest Gainers
Junior division - Yolanda Chang. Gained 148 rating points.
Intermediate division - Jay Zi Xuan Zhao. Gained 191 rating points.
Senior division - Max Stephens. Gained 150 rating points.
Biggest Upsets
Max Stephens win against JM Euan McDougall rated 1638!
Jack Ellis for his win against Shai Dyson rated 875.
Sam Bunny for his win against Shivam Shankar rated 777.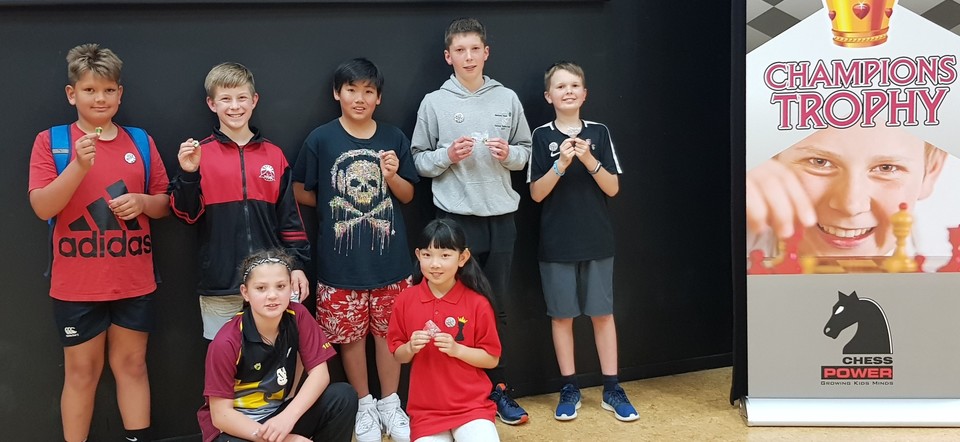 The best ranked player in each age group won the special champions trophy age group medal.
Age Group Winners
6 and under: Eric Zhang (Cockle Bay School)
8 and under: Loki Taupua (Avalon School)
10 and under: Anya Thurner (Kaurilands School)
12 and under: Aidan Morgan (Berkley Normal Middle School) and Kevin Li (Berkley Normal Middle School)
14 and under: Nathanael Loy (Hamilton Boys' High)
16 and under: Aidan Soal (Ashburton College)
18 and under: Xxavier Willoughby-Ansell (Waiuku College)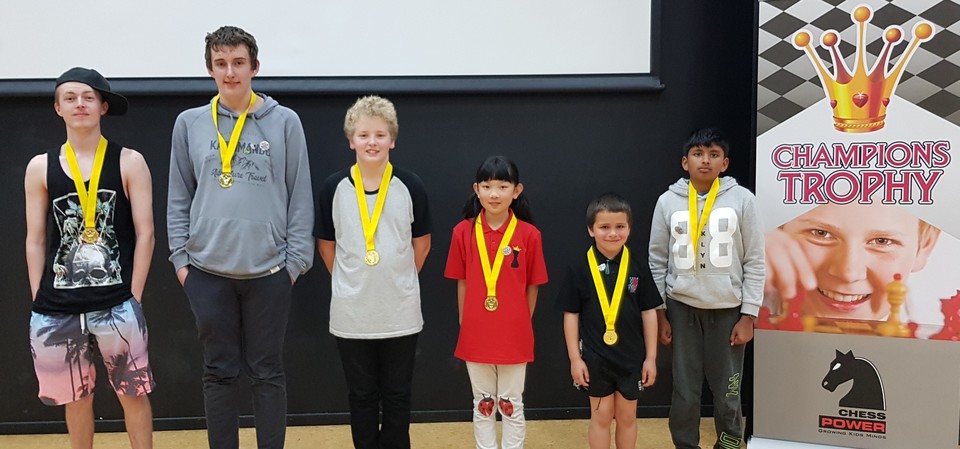 The best score by a player in each division and the best girl were awarded glass Champions Trophy trophies.
Overall Female Champion
Yolanda Chang (Kaurilands School)
Junior Division Champion
Paul He (Eastern Hutt School)
Intermediate Division Champion
Rohit Mudaliar (Blockhouse Bay Intermediate)
Senior Division Champion
Marin Brimon (Linwood College)
The best player overall become the 2018 Champions Trophy champion. Congratulations to Max (pictured left below) who with an outstanding performance of not losing a single game became the 2018 Overall Champion.
2018 Overall Champion
Max Stephens (Hamilton Boys' High School)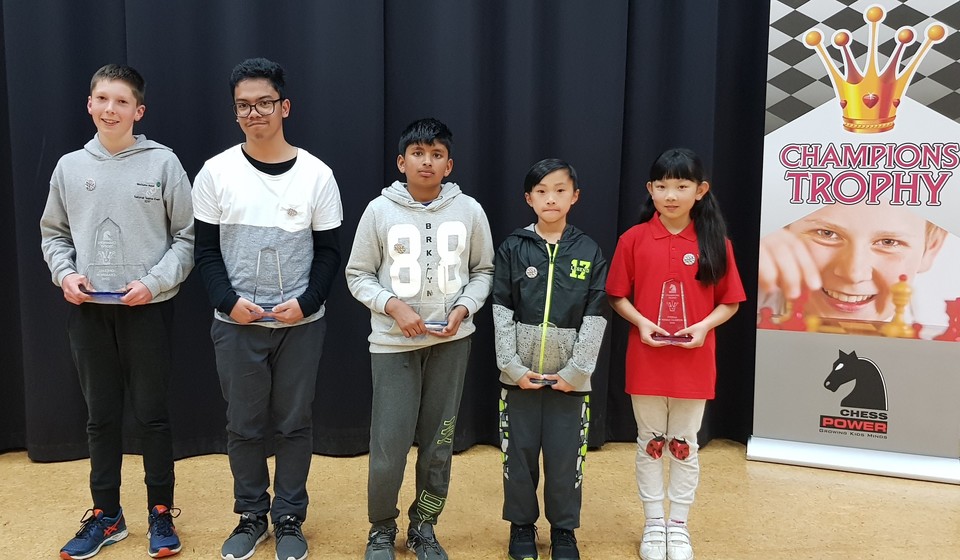 The top 4 individual players were presented with a framed certificate and awarded the esteemed Junior Master title.
Congratulations to Rohit Mudaliar, Marvin Brimon, Aidan Soal and Max Stephens.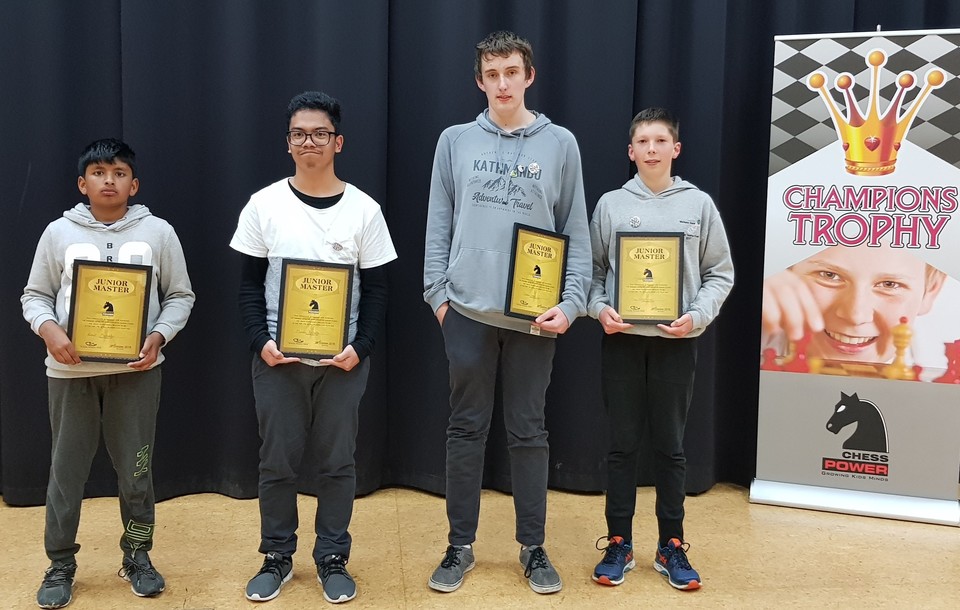 The tournament finished with a fun lollie scramble. The quickest wins the loot!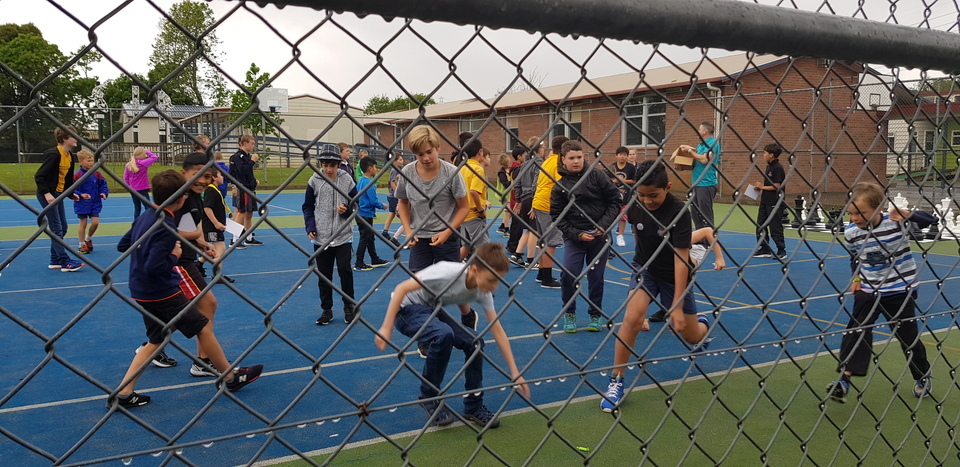 The Chess Power team still smiling (mostly) after a full on and exhausting day of junior chess!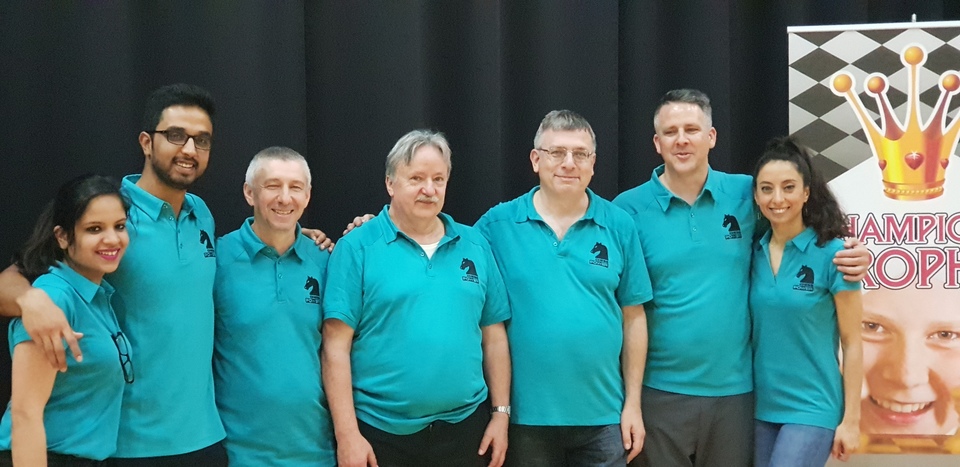 Feedback - Win 6 chess sets!
We would really love to hear what you thought of the event. We are giving away 6 chess sets for the best feedback.