The weekend of 24/25 October 2020 comprised of four events open to Juniors. 
On Saturday 24 October we held the Teams National finals in both onsite and online formats. And on Sunday 25 October, we held the Champions Trophy also in onsite and online formats. This report is a summary of the Online Champions Trophy. You can view other reports below...
View the Online Teams Nationals report
View the Onsite Teams Nationals report
View the Onsite Champions Trophy report
INTRODUCTION
The Champions Trophy is an invitation-only event. To gain a place at the Champions Trophy you have to perform exceptionally well at a Chess Power cluster event, a regional event or at a Sarapu Cup. The standard is high and only the best chess players in NZ get an invite.
It is fair to say the COVID pandemic not only caused people financial hardship but also created concern for the safety of people when attending events. To address these issues, we decided to hold the Champions Trophy in both an onsite and an online format for the first time.
We had a total of 67 players participate in the online event with good representation from across New Zealand. Although the numbers were quite low for our first online Champions Trophy, it should be remembered the event didn't even exist a few weeks earlier. In addition, we had 135 players attend the onsite Champions Trophy event. So combined, 202 players participated.
The event was held online using Zoom technology and our games server, Tornelo. Tornelo was recently updated to support online events when COVID struck and it was up to the task!
With an online event, it isn't that easy to pull together a photo collage of the event. Once you receive your certificates, medals and trophies, 
please send in your photos
 to 
events@chesspower.co.nz
 and we will add your photos to this report!
The prize desk at the onsite event included both the onsite and online awards. All players receive a special Champions Trophy certificate. Age group medals were also up for grabs. The overall winner of each division wins a glass engraved trophy to keep. Note that the online trophies were not engraved so we can put players names directly on the glass.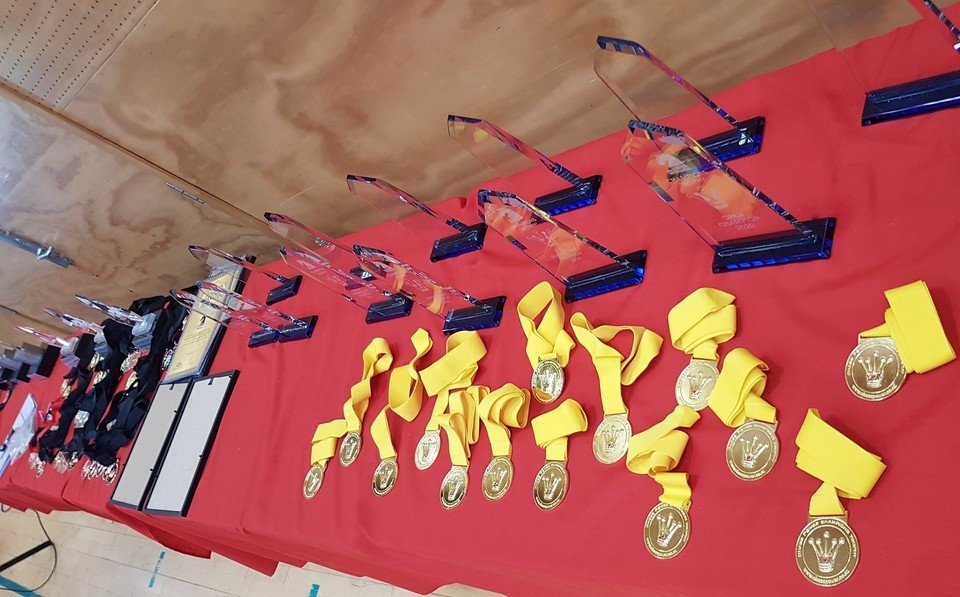 Aside from the tournament itself, the Champions Trophy featured a brand new event called Chess Mastermind™.
The event was extremely popular. Many got knocked out on the first question, but Alexander de Maupeou d'Ableiges managed to make it all the way to Level 6, winning the Carlsen Champion Package!
We have now renamed the challenge to "Who wants to be a Chess Master?™" because it follows a similar format to the "Who wants to be a millionaire?" game show.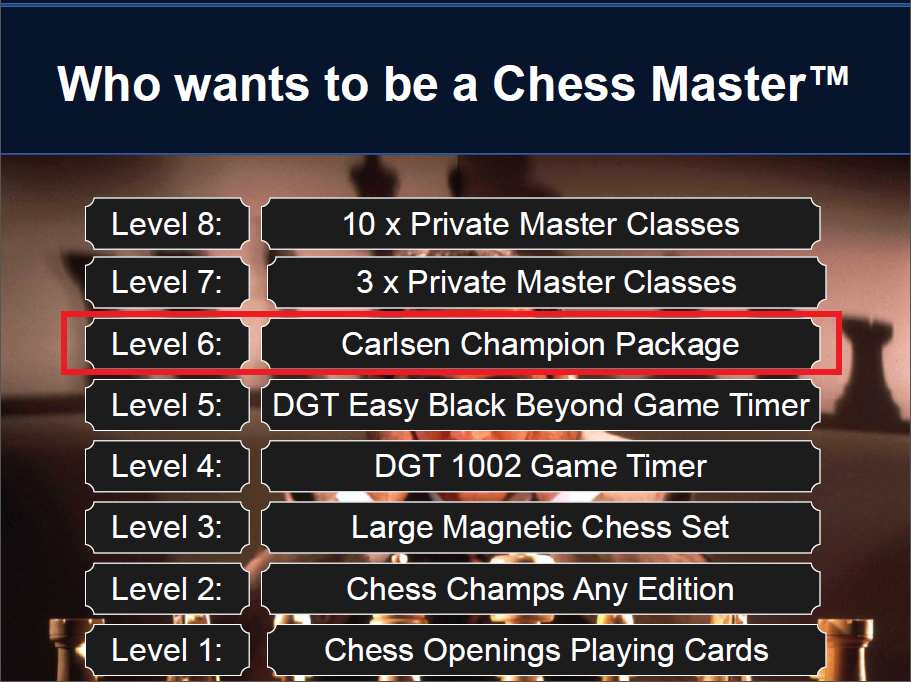 We had special prizes for players that gained the most rating points and had the biggest upsets winning against a lot stronger players.
Biggest Gainers
Junior division - Nathan Sun. Gained 86 rating points.
Intermediate division - Uros Ponjiger. Gained 208 rating points.
Open division - Saahir Saheb. Gained 104 rating points.
Biggest Upsets
Samuel Coles win against Troy Kelso rated 909. 
George Farman for his win against Ben Geilik rated 1115!
Tobey Hughes for his win against Rohansa Ganewatta rated 1076
Age Group Winners
The best ranked player in each age group won the special champions trophy age group medal.
JUNIOR DIVISION
7 and under: Ritul Joseph
9 and under: Jason Cao
11 and under: Nathan Sun
INTERMEDIATE DIVISION
11 and under: Anne Porteous
12 and under: Amanjot Singh
13 and under: Jordan Flewellen
OPEN DIVISION
14 and under: Ron Geilik
16 and under: Philip Brand
18 and under: Nick Rea
Female Champions
The best score by a female player in each division were awarded glass Best Girl Champions Trophy trophies.
Junior Division Female Champion
Alina Chen
Intermediate Division Female Champion
Luna López
Open Division Female Champion
Prathibha Bandara
Division Champions
The best score by a player in each division were awarded glass 1st Overall Champions Trophy trophies.
Junior Division Champion
Ritika Joseph
Intermediate Division Champion
 Uros Ponjiger
Open Division Champion
Saahir Saheb

Junior Master Titles
The top players in each division were awarded the Junior Master title. Each player was sent a framed junior master certificate and awarded the esteemed Junior Master title.
Junior Division Junior Masters
Ritika Joseph (Ritika already earned her Junior Master title in the Online Teams Nationals the day before!)
Nathan Sun
Intermediate Division Junior Masters
Uros Ponjiger
Amanjot Singh
Jordan Flewellen
Open Division Juniors Masters
Saahir Saheb
The Chess Power team still smiling (mostly) after a full on and exhausting day of junior chess!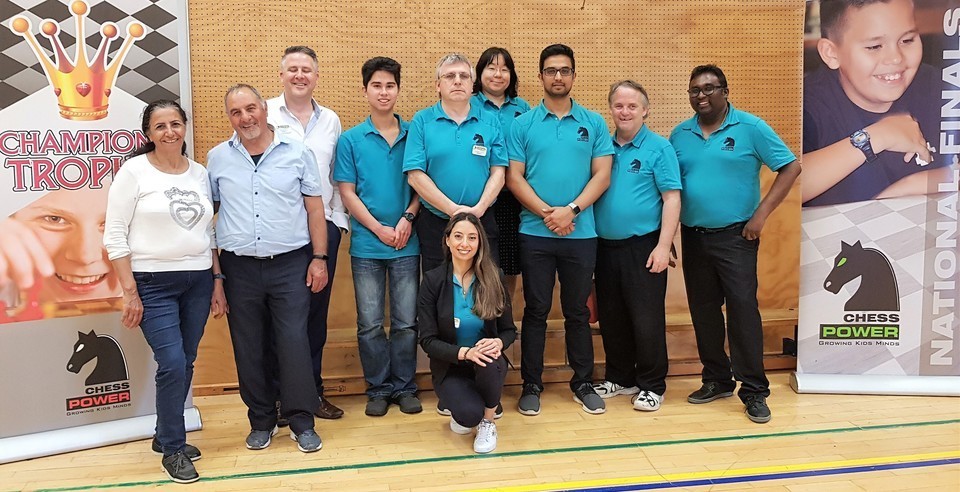 Feedback - Win 6 chess sets!
We would really love to hear what you thought of the event. We are giving away 6 chess sets for the best feedback.
Event Photos
The photos of the event including are available on our Facebook page. Or even better, Like our page and get notified.