Upcoming Regional Tournaments
The list below contains all upcoming Chess Power tournaments and events held outside of Auckland and Wellington. Events may change from time to time so always check here for the latest information on an event.
You can also download the 2019 New Zealand Chess Desk Calendar. This calendar contains all 2019 Chess Power regional and Sarapu Cup events including the Chess Power Nationals and Champions Trophy. The calendar is best printed in A3 or large size. The calendar was sponsored by Chess City.
You can also view the official New Zealand Chess website to see FIDE and NZCF (New Zealand Chess Federation) events.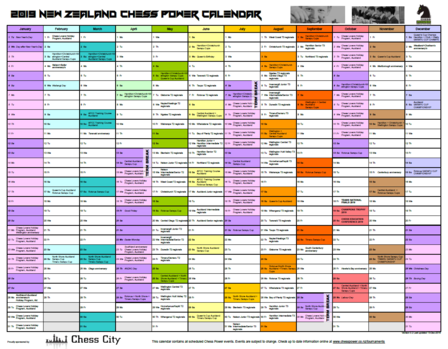 Switch to Calendar View?
Sunday 2 February

A fun, social Chess Tournament just for kids aged 4 to 18. Normally held on the FIRST SUNDAY of each month from 1pm - 5:30pm. Lots of great prizes!

Date: Sun 02 Feb 2020
Time: 01:00 PM - 05:30 AM

Sunday 16 February

A fun, social Chess Tournament just for kids aged 4 to 18. Normally held on the SECOND SUNDAY of each month from 1pm - 5:30pm. Lots of great prizes!

Date: Sun 16 Feb 2020
Time: 01:00 PM - 05:30 PM

Sunday 23 February

A fun, social Chess Tournament just for kids aged 4 to 18. Normally held on the FIRST SUNDAY of each month from 1pm - 5:30pm. Lots of great prizes!

Date: Sun 23 Feb 2020
Time: 01:00 PM - 05:30 AM

Sunday 1 March

We are very excited to bring the Sarapu Cup to Christchurch. The Sarapu Cup is a fun, social Chess Tournament just for kids aged 4 to 18. Lots of great prizes!

Date: Sun 01 Mar 2020
Time: 01:00 PM - 05:30 PM

A fun, social Chess Tournament just for kids aged 4 to 18. Normally held on the FIRST SUNDAY of each month from 1pm - 5:30pm. Lots of great prizes!

Date: Sun 01 Mar 2020
Time: 01:00 PM - 05:30 AM

Sunday 8 March

A fun, social Chess Tournament just for kids aged 4 to 18. Normally held on the FIRST SUNDAY of each month from 1pm - 5:30pm. Lots of great prizes!

Date: Sun 08 Mar 2020
Time: 01:00 PM - 05:30 AM

Sunday 15 March

A fun, social Chess Tournament just for kids aged 4 to 18. Normally held on the SECOND SUNDAY of each month from 1pm - 5:30pm. Lots of great prizes!

Date: Sun 15 Mar 2020
Time: 01:00 PM - 05:30 PM

Sunday 29 March

A fun, social Chess Tournament just for kids aged 4 to 18. Normally held on the FIRST SUNDAY of each month from 1pm - 5:30pm. Lots of great prizes!

Date: Sun 29 Mar 2020
Time: 01:00 PM - 05:30 AM

Sunday 5 April

A fun, social Chess Tournament just for kids aged 4 to 18. Normally held on the FIRST SUNDAY of each month from 1pm - 5:30pm. Lots of great prizes!

Date: Sun 05 Apr 2020
Time: 01:00 PM - 05:30 AM

Sunday 19 April

A fun, social Chess Tournament just for kids aged 4 to 18. Normally held on the FIRST SUNDAY of each month from 1pm - 5:30pm. Lots of great prizes!

Date: Sun 19 Apr 2020
Time: 01:00 PM - 05:30 AM

A fun, social Chess Tournament just for kids aged 4 to 18. Normally held on the SECOND SUNDAY of each month from 1pm - 5:30pm. Lots of great prizes!

Date: Sun 19 Apr 2020
Time: 01:00 PM - 05:30 PM

Sunday 3 May

A fun, social Chess Tournament just for kids aged 4 to 18. Normally held on the FIRST SUNDAY of each month from 1pm - 5:30pm. Lots of great prizes!

Date: Sun 03 May 2020
Time: 01:00 PM - 05:30 AM

Tuesday 5 May

Chess Power Regional Tournaments are an exciting Team & Individual Event designed for players at all levels. Win a regional event and qualify for the Chess Power Teams National Finals and the Champions Trophy!

Date: Tue 05 May 2020
Time: 09:00 AM - 02:15 PM

Thursday 7 May

Chess Power Regional Tournaments are an exciting Team & Individual Event designed for players at all levels. Win a regional event and qualify for the Chess Power Teams National Finals and the Champions Trophy!

Date: Thu 07 May 2020
Time: 09:00 AM - 02:15 PM

Friday 8 May

Chess Power Regional Tournaments are an exciting Team & Individual Event designed for players at all levels. Win a regional event and qualify for the Chess Power Teams National Finals and the Champions Trophy!

Date: Fri 08 May 2020
Time: 09:00 AM - 02:15 PM

Monday 11 May

Chess Power Regional Tournaments are an exciting Team & Individual Event designed for players at all levels. Win a regional event and qualify for the Chess Power Teams National Finals and the Champions Trophy!

Date: Mon 11 May 2020
Time: 09:00 AM - 02:15 PM

Tuesday 12 May

Chess Power Regional Tournaments are an exciting Team & Individual Event designed for players at all levels. Win a regional event and qualify for the Chess Power Teams National Finals and the Champions Trophy!

Date: Tue 12 May 2020
Time: 09:00 AM - 02:15 PM

Wednesday 13 May

Chess Power Regional Tournaments are an exciting Team & Individual Event designed for players at all levels. Win a regional event and qualify for the Chess Power Teams National Finals and the Champions Trophy!

Date: Wed 13 May 2020
Time: 09:00 AM - 02:15 PM

Thursday 14 May

Chess Power Regional Tournaments are an exciting Team & Individual Event designed for players at all levels. Win a regional event and qualify for the Chess Power Teams National Finals and the Champions Trophy!

Date: Thu 14 May 2020
Time: 09:00 AM - 02:15 PM

Chess Power Regional Tournaments are an exciting Team & Individual Event designed for players at all levels. Win a regional event and qualify for the Chess Power Teams National Finals and the Champions Trophy!

Date: Thu 14 May 2020
Time: 09:00 AM - 02:15 PM

Friday 15 May

Chess Power Regional Tournaments are an exciting Team & Individual Event designed for players at all levels. Win a regional event and qualify for the Chess Power Teams National Finals and the Champions Trophy!

Date: Fri 15 May 2020
Time: 09:00 AM - 02:15 PM

Sunday 17 May

A fun, social Chess Tournament just for kids aged 4 to 18. Normally held on the SECOND SUNDAY of each month from 1pm - 5:30pm. Lots of great prizes!

Date: Sun 17 May 2020
Time: 01:00 PM - 05:30 PM

Monday 18 May

Chess Power Regional Tournaments are an exciting Team & Individual Event designed for players at all levels. Win a regional event and qualify for the Chess Power Teams National Finals and the Champions Trophy!

Date: Mon 18 May 2020
Time: 09:00 AM - 02:15 PM

Tuesday 19 May

Chess Power Regional Tournaments are an exciting Team & Individual Event designed for players at all levels. Win a regional event and qualify for the Chess Power Teams National Finals and the Champions Trophy!

Date: Tue 19 May 2020
Time: 09:00 AM - 02:15 PM

Wednesday 20 May

Chess Power Regional Tournaments are an exciting Team & Individual Event designed for players at all levels. Win a regional event and qualify for the Chess Power Teams National Finals and the Champions Trophy!

Date: Wed 20 May 2020
Time: 09:00 AM - 02:15 PM

Thursday 21 May

Chess Power Regional Tournaments are an exciting Team & Individual Event designed for players at all levels. Win a regional event and qualify for the Chess Power Teams National Finals and the Champions Trophy!

Date: Thu 21 May 2020
Time: 09:00 AM - 02:15 PM

Friday 22 May

Chess Power Regional Tournaments are an exciting Team & Individual Event designed for players at all levels. Win a regional event and qualify for the Chess Power Teams National Finals and the Champions Trophy!

Date: Fri 22 May 2020
Time: 09:00 AM - 02:15 PM

Sunday 24 May

A fun, social Chess Tournament just for kids aged 4 to 18. Normally held on the FIRST SUNDAY of each month from 1pm - 5:30pm. Lots of great prizes!

Date: Sun 24 May 2020
Time: 01:00 PM - 05:30 AM

Thursday 28 May

Chess Power Regional Tournaments are an exciting Team & Individual Event designed for players at all levels. Win a regional event and qualify for the Chess Power Teams National Finals and the Champions Trophy!

Date: Thu 28 May 2020
Time: 09:00 AM - 02:15 PM

Wednesday 3 June

Chess Power Regional Tournaments are an exciting Team & Individual Event designed for players at all levels. Win a regional event and qualify for the Chess Power Teams National Finals and the Champions Trophy!

Date: Wed 03 Jun 2020
Time: 09:00 AM - 02:15 PM

Chess Power Regional Tournaments are an exciting Team & Individual Event designed for players at all levels. Win a regional event and qualify for the Chess Power Teams National Finals and the Champions Trophy!

Date: Wed 03 Jun 2020
Time: 09:00 AM - 02:15 PM

Thursday 4 June

Chess Power Regional Tournaments are an exciting Team & Individual Event designed for players at all levels. Win a regional event and qualify for the Chess Power Teams National Finals and the Champions Trophy!

Date: Thu 04 Jun 2020
Time: 09:00 AM - 02:15 PM

Friday 5 June

Chess Power Regional Tournaments are an exciting Team & Individual Event designed for players at all levels. Win a regional event and qualify for the Chess Power Teams National Finals and the Champions Trophy!

Date: Fri 05 Jun 2020
Time: 09:00 AM - 02:15 PM

Sunday 7 June

A fun, social Chess Tournament just for kids aged 4 to 18. Normally held on the FIRST SUNDAY of each month from 1pm - 5:30pm. Lots of great prizes!

Date: Sun 07 Jun 2020
Time: 01:00 PM - 05:30 AM

Monday 8 June

Chess Power Regional Tournaments are an exciting Team & Individual Event designed for players at all levels. Win a regional event and qualify for the Chess Power Teams National Finals and the Champions Trophy!

Date: Mon 08 Jun 2020
Time: 09:00 AM - 02:15 PM

Tuesday 9 June

Chess Power Regional Tournaments are an exciting Team & Individual Event designed for players at all levels. Win a regional event and qualify for the Chess Power Teams National Finals and the Champions Trophy!

Date: Tue 09 Jun 2020
Time: 09:00 AM - 02:15 PM

Wednesday 10 June

Chess Power Regional Tournaments are an exciting Team & Individual Event designed for players at all levels. Win a regional event and qualify for the Chess Power Teams National Finals and the Champions Trophy!

Date: Wed 10 Jun 2020
Time: 09:00 AM - 02:15 PM

Thursday 11 June

Chess Power Regional Tournaments are an exciting Team & Individual Event designed for players at all levels. Win a regional event and qualify for the Chess Power Teams National Finals and the Champions Trophy!

Date: Thu 11 Jun 2020
Time: 09:00 AM - 02:15 PM

Monday 15 June

Chess Power Regional Tournaments are an exciting Team & Individual Event designed for players at all levels. Win a zonal event and qualify for the Chess Power National Finals!

Date: Mon 15 Jun 2020
Time: 09:00 AM - 02:15 PM

Wednesday 17 June

Chess Power Regional Tournaments are an exciting Team & Individual Event designed for players at all levels. Win a zonal event and qualify for the Chess Power National Finals!

Date: Wed 17 Jun 2020
Time: 09:00 AM - 02:15 PM

Thursday 18 June

Chess Power Regional Tournaments are an exciting Team & Individual Event designed for players at all levels. Win a zonal event and qualify for the Chess Power National Finals!

Date: Thu 18 Jun 2020
Time: 09:00 AM - 02:15 PM

Friday 19 June

Chess Power Regional Tournaments are an exciting Team & Individual Event designed for players at all levels. Win a zonal event and qualify for the Chess Power National Finals!

Date: Fri 19 Jun 2020
Time: 09:00 AM - 02:15 PM

Sunday 21 June

A fun, social Chess Tournament just for kids aged 4 to 18. Normally held on the SECOND SUNDAY of each month from 1pm - 5:30pm. Lots of great prizes!

Date: Sun 21 Jun 2020
Time: 01:00 PM - 05:30 PM

Wednesday 24 June

Chess Power Regional Tournaments are an exciting Team & Individual Event designed for players at all levels. Win a regional event and qualify for the Chess Power Teams National Finals and the Champions Trophy!

Date: Wed 24 Jun 2020
Time: 09:00 AM - 02:15 PM

Sunday 28 June

A fun, social Chess Tournament just for kids aged 4 to 18. Normally held on the FIRST SUNDAY of each month from 1pm - 5:30pm. Lots of great prizes!

Date: Sun 28 Jun 2020
Time: 01:00 PM - 05:30 AM

Sunday 5 July

A fun, social Chess Tournament just for kids aged 4 to 18. Normally held on the FIRST SUNDAY of each month from 1pm - 5:30pm. Lots of great prizes!

Date: Sun 05 Jul 2020
Time: 01:00 PM - 05:30 AM

Sunday 19 July

A fun, social Chess Tournament just for kids aged 4 to 18. Normally held on the SECOND SUNDAY of each month from 1pm - 5:30pm. Lots of great prizes!

Date: Sun 19 Jul 2020
Time: 01:00 PM - 05:30 PM

Sunday 26 July

A fun, social Chess Tournament just for kids aged 4 to 18. Normally held on the FIRST SUNDAY of each month from 1pm - 5:30pm. Lots of great prizes!

Date: Sun 26 Jul 2020
Time: 01:00 PM - 05:30 AM

Monday 27 July

Chess Power Regional Tournaments are an exciting Team & Individual Event designed for players at all levels. Win a regional event and qualify for the Chess Power Teams National Finals and the Champions Trophy!

Date: Mon 27 Jul 2020
Time: 09:00 AM - 02:15 PM

Tuesday 28 July

Chess Power Regional Tournaments are an exciting Team & Individual Event designed for players at all levels. Win a regional event and qualify for the Chess Power Teams National Finals and the Champions Trophy!

Date: Tue 28 Jul 2020
Time: 09:00 AM - 02:15 PM

Wednesday 29 July

Chess Power Regional Tournaments are an exciting Team & Individual Event designed for players at all levels. Win a regional event and qualify for the Chess Power Teams National Finals and the Champions Trophy!

Date: Wed 29 Jul 2020
Time: 09:00 AM - 02:15 PM

Thursday 30 July

Chess Power Regional Tournaments are an exciting Team & Individual Event designed for players at all levels. Win a regional event and qualify for the Chess Power Teams National Finals and the Champions Trophy!

Date: Thu 30 Jul 2020
Time: 09:00 AM - 02:15 PM

Friday 31 July

Chess Power Regional Tournaments are an exciting Team & Individual Event designed for players at all levels. Win a regional event and qualify for the Chess Power Teams National Finals and the Champions Trophy!

Date: Fri 31 Jul 2020
Time: 09:00 AM - 02:15 PM

Sunday 2 August

A fun, social Chess Tournament just for kids aged 4 to 18. Normally held on the FIRST SUNDAY of each month from 1pm - 5:30pm. Lots of great prizes!

Date: Sun 02 Aug 2020
Time: 01:00 PM - 05:30 AM

Monday 3 August

Chess Power Regional Tournaments are an exciting Team & Individual Event designed for players at all levels. Win a regional event and qualify for the Chess Power Teams National Finals and the Champions Trophy!

Date: Mon 03 Aug 2020
Time: 09:00 AM - 02:15 PM

Chess Power Regional Tournaments are an exciting Team & Individual Event designed for players at all levels. Win a regional event and qualify for the Chess Power Teams National Finals and the Champions Trophy!

Date: Mon 03 Aug 2020
Time: 09:00 AM - 02:15 PM

Wednesday 5 August

Chess Power Regional Tournaments are an exciting Team & Individual Event designed for players at all levels. Win a regional event and qualify for the Chess Power Teams National Finals and the Champions Trophy!

Date: Wed 05 Aug 2020
Time: 09:00 AM - 02:15 PM

Thursday 6 August

Chess Power Regional Tournaments are an exciting Team & Individual Event designed for players at all levels. Win a regional event and qualify for the Chess Power Teams National Finals and the Champions Trophy!

Date: Thu 06 Aug 2020
Time: 09:00 AM - 02:15 PM

Friday 7 August

Chess Power Regional Tournaments are an exciting Team & Individual Event designed for players at all levels. Win a regional event and qualify for the Chess Power Teams National Finals and the Champions Trophy!

Date: Fri 07 Aug 2020
Time: 09:00 AM - 02:15 PM

Friday 14 August

Chess Power Regional Tournaments are an exciting Team & Individual Event designed for players at all levels. Win a regional event and qualify for the Chess Power Teams National Finals and the Champions Trophy!

Date: Fri 14 Aug 2020
Time: 09:00 AM - 02:15 PM

Monday 17 August

Chess Power Regional Tournaments are an exciting Team & Individual Event designed for players at all levels. Win a regional event and qualify for the Chess Power Teams National Finals and the Champions Trophy!

Date: Mon 17 Aug 2020
Time: 09:00 AM - 02:15 PM

Thursday 20 August

Chess Power Regional Tournaments are an exciting Team & Individual Event designed for players at all levels. Win a regional event and qualify for the Chess Power Teams National Finals and the Champions Trophy!

Date: Thu 20 Aug 2020
Time: 09:00 AM - 02:15 PM

Friday 21 August

Chess Power Regional Tournaments are an exciting Team & Individual Event designed for players at all levels. Win a regional event and qualify for the Chess Power Teams National Finals and the Champions Trophy!

Date: Fri 21 Aug 2020
Time: 09:00 AM - 02:15 PM

Sunday 23 August

A fun, social Chess Tournament just for kids aged 4 to 18. Normally held on the FIRST SUNDAY of each month from 1pm - 5:30pm. Lots of great prizes!

Date: Sun 23 Aug 2020
Time: 01:00 PM - 05:30 AM

A fun, social Chess Tournament just for kids aged 4 to 18. Normally held on the SECOND SUNDAY of each month from 1pm - 5:30pm. Lots of great prizes!

Date: Sun 23 Aug 2020
Time: 01:00 PM - 05:30 PM

Monday 24 August

Chess Power Regional Tournaments are an exciting Team & Individual Event designed for players at all levels. Win a regional event and qualify for the Chess Power Teams National Finals and the Champions Trophy!

Date: Mon 24 Aug 2020
Time: 09:00 AM - 02:15 PM

Tuesday 25 August

Chess Power Regional Tournaments are an exciting Team & Individual Event designed for players at all levels. Win a regional event and qualify for the Chess Power Teams National Finals and the Champions Trophy!

Date: Tue 25 Aug 2020
Time: 09:00 AM - 02:15 PM

Wednesday 26 August

Chess Power Regional Tournaments are an exciting Team & Individual Event designed for players at all levels. Win a regional event and qualify for the Chess Power Teams National Finals and the Champions Trophy!

Date: Wed 26 Aug 2020
Time: 09:00 AM - 02:15 PM

Thursday 27 August

Chess Power Regional Tournaments are an exciting Team & Individual Event designed for players at all levels. Win a regional event and qualify for the Chess Power Teams National Finals and the Champions Trophy!

Date: Thu 27 Aug 2020
Time: 09:00 AM - 02:15 PM

Friday 28 August

Chess Power Regional Tournaments are an exciting Team & Individual Event designed for players at all levels. Win a regional event and qualify for the Chess Power Teams National Finals and the Champions Trophy!

Date: Fri 28 Aug 2020
Time: 09:00 AM - 02:15 PM

Wednesday 2 September

Chess Power Regional Tournaments are an exciting Team & Individual Event designed for players at all levels. Win a regional event and qualify for the Chess Power Teams National Finals and the Champions Trophy!

Date: Wed 02 Sep 2020
Time: 09:00 AM - 02:15 PM

Sunday 6 September

A fun, social Chess Tournament just for kids aged 4 to 18. Normally held on the FIRST SUNDAY of each month from 1pm - 5:30pm. Lots of great prizes!

Date: Sun 06 Sep 2020
Time: 01:00 PM - 05:30 AM

Sunday 20 September

A fun, social Chess Tournament just for kids aged 4 to 18. Normally held on the SECOND SUNDAY of each month from 1pm - 5:30pm. Lots of great prizes!

Date: Sun 20 Sep 2020
Time: 01:00 PM - 05:30 PM

Sunday 27 September

A fun, social Chess Tournament just for kids aged 4 to 18. Normally held on the FIRST SUNDAY of each month from 1pm - 5:30pm. Lots of great prizes!

Date: Sun 27 Sep 2020
Time: 01:00 PM - 05:30 AM

Sunday 4 October

A fun, social Chess Tournament just for kids aged 4 to 18. Normally held on the FIRST SUNDAY of each month from 1pm - 5:30pm. Lots of great prizes!

Date: Sun 04 Oct 2020
Time: 01:00 PM - 05:30 AM

Saturday 17 October

Aimed at finding the best junior chess player in NZ, the Champions Trophy has everything to play for! This years event will be held in Auckland.

Date: Sat 17 Oct 2020
Time: 09:00 AM - 05:30 PM

Sunday 18 October

A fun, social Chess Tournament just for kids aged 4 to 18. Normally held on the FIRST SUNDAY of each month from 1pm - 5:30pm. Lots of great prizes!

Date: Sun 18 Oct 2020
Time: 01:00 PM - 05:30 AM

A fun, social Chess Tournament just for kids aged 4 to 18. Normally held on the SECOND SUNDAY of each month from 1pm - 5:30pm. Lots of great prizes!

Date: Sun 18 Oct 2020
Time: 01:00 PM - 05:30 PM

Sunday 1 November

A fun, social Chess Tournament just for kids aged 4 to 18. Normally held on the FIRST SUNDAY of each month from 1pm - 5:30pm. Lots of great prizes!

Date: Sun 01 Nov 2020
Time: 01:00 PM - 05:30 AM

Sunday 15 November

A fun, social Chess Tournament just for kids aged 4 to 18. Normally held on the SECOND SUNDAY of each month from 1pm - 5:30pm. Lots of great prizes!

Date: Sun 15 Nov 2020
Time: 01:00 PM - 05:30 PM

Sunday 22 November

A fun, social Chess Tournament just for kids aged 4 to 18. Normally held on the FIRST SUNDAY of each month from 1pm - 5:30pm. Lots of great prizes!

Date: Sun 22 Nov 2020
Time: 01:00 PM - 05:30 AM

Sunday 29 November

THE PREMIER HAMILTON JUNIOR CHESS EVENT FOR 2020. A competitive Chess Tournament just for kids ages 4 to 18. Multiple divisions. Lots of great prizes!

Date: Sun 29 Nov 2020
Time: 09:00 AM - 05:30 PM

Sunday 13 December