Upcoming Wellington Tournaments
The list below contains all upcoming Chess Power tournaments and events held in Wellington. Events may change from time to time so always check here for the latest information on an event.
You can also download the 2019 Wellington Chess Desk Calendar. This calendar contains all 2018 Chess Power regional and Sarapu Cup events held in Wellington including the Chess Power Nationals and Champions Trophy. The calendar is best printed in A3 or large size. The calendar was sponsored by Chess City.
You can also view the official New Zealand Chess website to see FIDE and NZCF (New Zealand Chess Federation) events.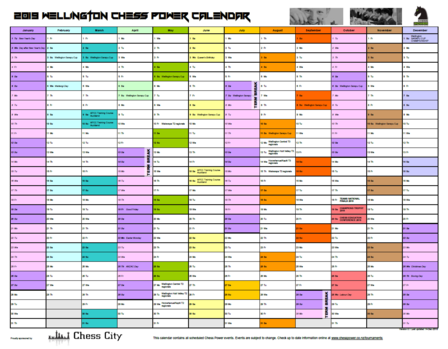 Switch to Calendar View?
Monday 25 May 2020

Chess Power Regional Tournaments are an exciting Team & Individual Event designed for players at all levels. Win a zonal event and qualify for the Chess Power National Finals!

Date: Mon 25 May 2020
Time: 09:00 AM - 02:15 PM

Tuesday 26 May 2020

Chess Power Regional Tournaments are an exciting Team & Individual Event designed for players at all levels. Win a zonal event and qualify for the Chess Power National Finals!

Date: Tue 26 May 2020
Time: 09:00 AM - 02:15 PM

Wednesday 27 May 2020