The Sarapu Cup is named after the late Ortvin Sarapu, known in many chess circles as "Mr Chess". Read the biography or skip straight to some interesting artefacts including some of Ortvin's greatest games!
A Personal Story...
During 1998-1999, after several years as a member I took the role of the club captain of the Auckland Chess Centre. It was here that I came to get to know Ortvin. I was quite fond of him and we shared many stories and games of chess.
One day I watched Ortvin play a club game against another friend of mind, Sriram Ramankumar. Ortvin had the White pieces. Sriram was a useful player who often seemed to get himself out of trouble in difficult positions. Ortvin played the game aggressively sacrificing a rook to keep Sriram's king in the centre.
I remember watching the game and couldn't work out all the complications - but I was in awe of Ortvin's skill and I remember wishing that I one day could attack like Ortvin did. Ortvin put more and more pressure on and before long Sriram's position collapsed and he resigned. The date of this game was 12 April 1999.
This was the last time I saw Ortvin as it was the night before he passed away.
What struck me most was that even right at the end of his life, Ortvin's passion for fighting chess was alive and well. I can only imagine he slept that night with a warmth in his heart knowing he played yet another great game of Chess - his life's passion.
Paul Macdonald
CEO - Chess Power
The scoresheet of Ortvins last game [courtesy of Peter and Barbara Sarapu]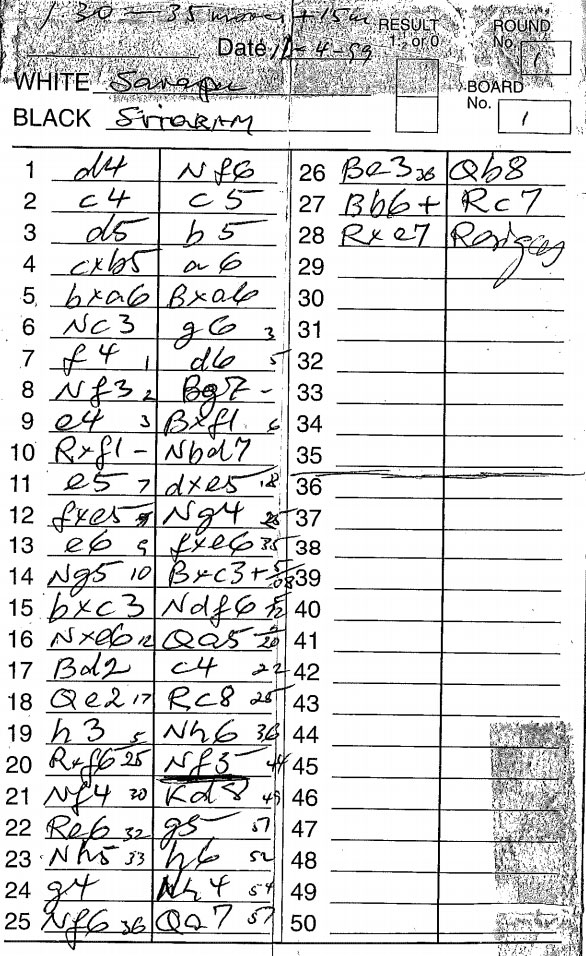 Why the Sarapu Cup?
Ortvin Sarapu MBE was born as Ortvin Sarapuu on 22 January 1924 in Narva in Estonia. He passed away on 13 April 1999 in Auckland, New Zealand. Sometimes known as "Mr Chess", Ortvin was a New Zealand chess International Master who won or shared the New Zealand Chess Championship 20 times from 1952 to 1990.

Ortvin Sarapu achieved some incredible milestones during his lifetime. He significantly helped and contributed to Chess in NZ. The reason we have named this event the Sarapu Cup is mostly because we wanted for Ortvin to never be forgotten. We wanted the children of NZ that take an interest in Chess to be aware of a great figure in New Zealand's history.

Aside from Chess, Ortvin had an incredible knowledge of New Zealand and in particular New Zealand sporting history. Just listen to the audio interview at the bottom of this page.

Chess Power is very proud to recognise Ortvin's place in New Zealand history with the Sarapu Cup.
Early years
| | |
| --- | --- |
| | Ortvin won the Estonian Junior Championship in 1940, then defected to Finland from then Nazi-occupied Estonia in 1943, thence to Sweden. In 1945, just after World War II ended, Sarapu was invited to stay with a family friend in Denmark. In 1946, he won the Copenhagen championship and the Copenhagen five-minute lightning chess championship. In 1948, he played twenty games of blindfold chess simultaneously in Denmark. |
His first and last international tournament in Europe was at Oldenburg 1949. There, he defeated former world chess championship candidate Efim Bogoljubov with a sharp turnaround from a bad position. Sarapu finished in fifth place with 11-6, a point behind tournament winners Bogolyubov and Elmars Zemgalis, and a half-point behind Nicolas Rossolimo and Herbert Heinicke.
Life in New Zealand
One of his opponents at the 1949 Oldenburg tournament was former New Zealander Robert Wade; in a conversation after their game, Wade suggested that New Zealand would be a good place for someone like Sarapu, who wanted to escape war-ravaged Europe. Ortvin met Barbara Bialonczyk after the Oldenburg tournament, and they married in 1950. Immediately thereafter, the newlyweds emigrated to New Zealand, arriving in Wellington in October 1950. They had one son, Peter.
On arrival, there was a huge gap in chess strength between Ortvin and the rest of New Zealand. His strength helped raise the general standard of chess in New Zealand. Even so, he won or co-won the New Zealand Chess Championship 20 times between 1952, when he won his first championship with 10.5 points out of 11 games, and 1990, when he tied with Ben Martin at 7.5 out of 11.] Sarapu claimed that this was a world record number of wins of any national championship. He became known as "Mr NZ Chess", and represented the country at ten Chess Olympiads.

In 1952 he played C. J. S. Purdy, then champion of Australia, for the championship of Australasia. The match, played at Auckland, was drawn, the players becoming joint champions for 1952. Sarapu took first place at the Melbourne International Tournament in 1955.
Awards
FIDE awarded Sarapu the International Master title in 1966 after he won the Asian Zonal, making him the second New Zealand player to gain the IM title, the first being Robert G Wade. In addition to Bogolyubov, other world-class players whom Sarapu played include ...
World Champion Bobby Fischer (a loss at the Sousse 1967 Interzonal),

World Champion Garry Kasparov (a loss at the Lucerne 1982 Olympiad),

and Boris Spassky (a draw at Wellington 1988),

and perennial World Championship candidate Viktor Korchnoi (a draw at the Sousse Interzonal).
Ortvin was awarded an MBE for his services to chess.
Radio Interview
Get to know Ortvin first-hand in this wonderful candid interview with Mr Chess himself.
Ortvin's Amazing
Puzzle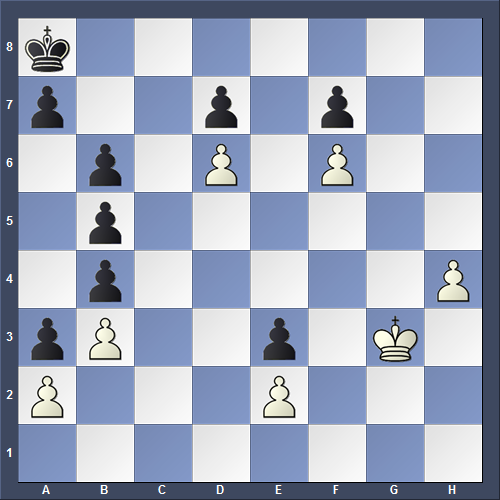 White to play and win. It seems easy but Black has an amazing defensive idea!
Ortvin showed me this puzzle one night at the Auckland Chess Centre. He told me an Estonian Master showed him. Perhaps Paul Keres?
Links
www.chessgames.com The chess games of Ortvin Sarapu and various stories
Call for Memorabilia
Acknowledgements
We would like to give my eternal gratitude to Peter and Barbara Sarapu for their support of the Sarapu Cup name and idea.

FM Ewen Green and Bruce Wheeler of the Auckland Chess Centre for their support.

GM Murray Chandler for all of his support with the previous name of this event, the MC Cup.

Wikipedia and it's contributors for providing much of Ortvin's biographical information