What is the Junior Online Oceania Chess League?
In early 2020 COVID-19 forced us to isolate indoors. During isolation a few enthusiastic chess administrators shared an idea - an Online Teams Chess Tournament where junior players can represent their city and compete against players from all over Oceania.

​And that's how JOOC (pronounced like juice) was born!
Season 3 starts 5 September!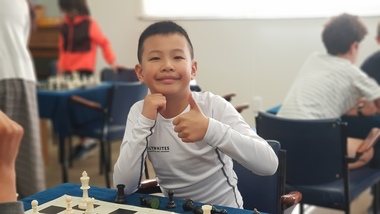 Here is the run-down for the JOOC League season 3:
The JOOC league is open to all juniors (under 18) that reside anywhere in Oceania.
The JOOC league is open to players of all levels
All players play 7 games
All games are online administered by a professional tournament arbiter
In New Zealand, all games are on Saturdays starting at 6pm
You play one game each week
The fee to join is AUD$35 per player for the whole season
You form a team with the other players in your city within specific age groups. The age groups are Under 18, Under 16, Under 14, Under 12, Under 10 and Under 8. If you are really strong for your age, you can play in a higher age group but you cannot play below your age group. Age goes by the year of birth, not by the date or month.
Players from the same team will not play against one another.
How do I join a Team?
The JOOC League is open to all juniors in Oceania. Simply register online through Tornelo (click Enter Now) and if you don't have a Team Manager yet, email us with which City you'd like to represent and we'll find you a Manager!
Your team will compete online against teams from 20 other cities!
To find out more about becoming a Team Manager, connect through our private Facebook group or email.

Who will win the JOOC League Season 3?
Check out the selection of JOOC League MASCOTS and TEAM NAMES

Each city captain should choose one Mascot/Team. To request a mascot, email joocmascot@chesspower.co.nz.

Congratulations to the winners of Season 2!
Congratulations to the winning teams!!
1st Place - Melbourne Tigers
2nd Place - Adelaide Knights
3rd Place - Auckland Magic